In an interview with director Masaaki Yuasa of the movie 'Inu-Oh', I heard that he wants to aim for people who are watching to experience 'joy' beyond 'satisfaction'.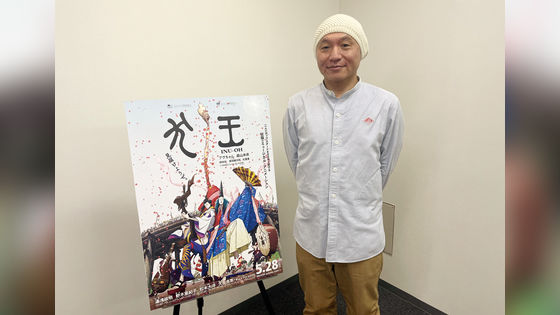 The movie ' Inu-Oh ', which depicts a Noh performer, Inu-Oh, who was active in the Muromachi period, and a blind Biwa Hoshi, Tomona, crossing talents and climbing to a height, will be released on May 28, 2022. It will be released from (Sat). Based on
Hideo Furukawa
's '
Heike Monogatari Inuou no Maki
', 'Mind Game' (2004), 'The Tatami Galaxy' (2010), and 'Lu Over the Wall' (2017) ), '
Keep Your Hands Off Eizouken!
(2020), directed by
Masaaki Yuasa
, who has produced works that have been highly evaluated both in Japan and overseas.
In Yuasa's work, you can see a nice animation that follows the rhythm, but since this work is the main character of Noh musician & Biwa Hoshi, it can be said that it is a 'live musical animation movie'. The music was handled by
Yoshihide Otomo
, who has worked on many dramas and movies, including the serial TV novel 'Ama-chan' and the taiga drama 'Idaten-Tokyo Olimpic Story-'.
We asked Director Yuasa about various points, including how he created this live feeling.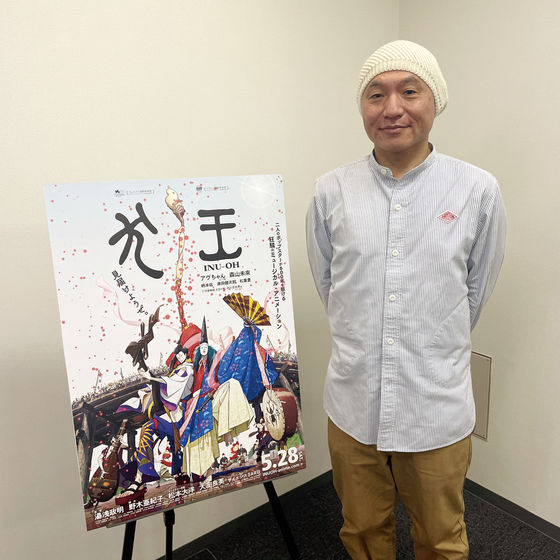 Theatrical animation 'Inu-Oh'

https://inuoh-anime.com/
GIGAZINE (hereinafter, G):
At the time of the world premiere of the Venice International Film Festival, Director Yuasa commented on the music and pictures of this film, 'I thought it was best to make the music first and then make the video to match it. I couldn't convey it in concrete words. That's why Yoshihide Otomo of the music said, 'I want a choreography first.' Is it a difficult part to make a video that matches the music this time?
Director Masaaki Yuasa (hereinafter referred to as Yuasa):
I said, 'I want to go with strong rock,' but the music that Mr. Otomo first made wasn't the rock that I had in mind. At first, I was saying, 'Use the instruments of the time as much as possible,' but gradually, 'It's better to use more modern drums and percussion instruments,' while Otomo-san also said. 'Before the brass instrument' was changed to 'Gingin the electric guitar', and in the end, 'I wanted this'. In other words, the word 'rock' was different from what I imagined as an expert, Mr. Otomo. The rock I think was a strong guitar riff, not a gentle one, but a provocative
and powerful deep purple
... but from an expert's point of view, the range received is infinite. I think it's different.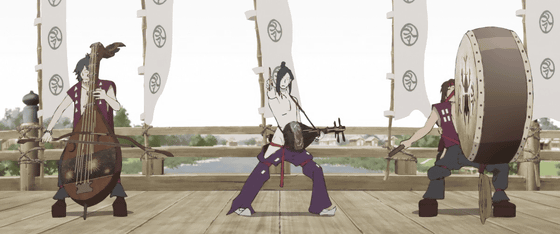 G:
I see.

Yuasa:
The scale is supposed to be, and if it's too long, it's a problem, so there was a saying, 'I want a song with this kind of development.' In the flow of one song, when it comes out that 'this is exciting, it goes up from a few minutes and tens of seconds, and it goes down from here', Mr. Otomo tells me that a picture is needed to make it. There was a story that it would be difficult without it.

G:
Hmmmm.

Yuasa:
I was told that I wanted a picture before the song because I couldn't imagine the picture without the song, so I wonder if I have to make the storyboard first. Assuming that there is a song, there is a singing here, and after making the development of an interlude around here, I made a video and said, 'I want to go like this.' Then, Mr. Otomo composed the music to match the instructions and choreography of the conte, and the appropriate temporary lyrics, and it was also the rock music that I was looking for. I was able to communicate. '

G:
Oh.

Yuasa:
It was still difficult to get there, and the picture was a whitish line drawing, so it was difficult for anyone other than the animator to understand, and until the chorus recording, the peak position of the last song was a little different. At the time of recording, I told him that 'the place to get excited is a little before that', and Mr. Otomo said, 'I have to recompose it,' and he corrected the score on the spot and shifted the point of excitement.

G:
Is it on the spot?

Yuasa:
yes. It seemed to be difficult, but I was able to respond. 'Whether the picture comes first or the music comes first' means that it is easier to add music if there is a picture, and if there is music, it is easier to draw a picture. In the case of 'Inuou', it is a song. However, I think it was close to a play with detailed assumptions. Now I can understand Mr. Otomo's feelings, but at that time there was also a feeling that they were restraining each other, or 'I want you to do that first' (laughs).

G:
(smile)

Yuasa:
After that,
Avu-chan
, who played the role of Inu-Oh, came and made the lyrics into Avu-chan's words, and Avu-chan took the lead in singing. Ideas on how to sing and sing are coming out more and more ... Otomo and I were only judging whether it was good or bad. Most of the time, it was 'Isn't it okay?' (Laughs), but
Moriyama Mirai
also suggested 'I want to sing together at the end', and we asked them to talk and decide how to sing. Finally, it feels like Mr. Otomo added the chorus and put it together. It's very special and difficult, and I think Mr. Otomo thought, 'I don't want to do the same thing again.'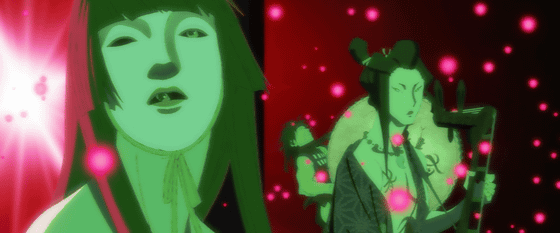 G:
So much (laughs)

Yuasa:
Even so, when the picture was completed, Mr. Otomo added, 'There is a biwa here.' I made it like that.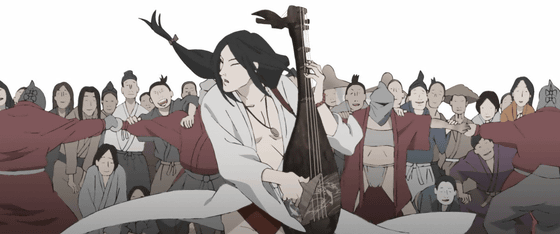 G:
I was wondering if the picture was first and the sound was matched, or if the picture was made according to the sound, I didn't know at all and it was amazing.

Yuasa:
I think that the creator did not know what was the correct answer and was doing it in a chaotic manner (laugh)

G:
I think that the discrepancies were squeezed through a series of small adjustments, but where did Director Yuasa think, 'This feels good?'

Yuasa:
When Mr. Otomo wrote a song for the V-conte, I thought, 'This is good, I'm in the line I'm thinking of.' All that was left was fine adjustments and nice additions.

G:
Director Yuasa thought that working with people who had different ideas would broaden their thinking, but the explosive power gained by making 'Inu-Oh' and working with people who have similar ideas. He said that he felt that there might be one. Was there any event that could give you some strength in the production of this work?

Yuasa:
Well ... when I'm working, there are 'people who can communicate directly' and 'people who can't communicate directly', and I spend my time exploring how to do well with 'people who can't communicate directly'. I'm done. Furthermore, in recent years, there has been a growing discrepancy with people who are familiar with it, and I felt that I could not afford to fill the hole. In a short amount of time, it is difficult to take the time to work to further enhance each other with 'people who are familiar'. But if I could do that, I think I could make something even more amazing and make everyone more happy. Especially the recordings change with a small number of people, so it was easy to see the goodness.

G:
I see.

Yuasa:
The music was finally made good this time, but if I could communicate well earlier, Mr. Otomo would have been easier to do, and maybe even better music ... This is just what I think, but I wonder if that is the case.

G:
Looking at this work, I felt that I was showing something amazing from the beginning, but I wonder if I can move better and I may still be able to aim for other parts.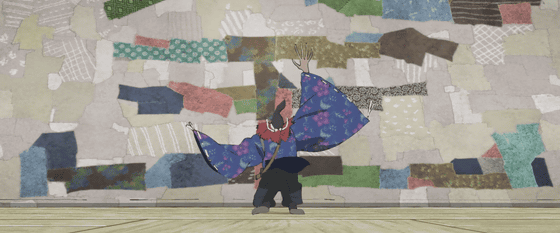 Yuasa:
I think that's the case forever, but I'm worried about the part where I can't reach the assumption that I can do something like this, which I first thought about in terms of time and strength. I make it like 'still OK', but if you can't reach such places as 'it will be better if you do this a little more' or 'it will look good if you hold it down', it will take a little more time and exchanges. I wonder if I could have done it well.

G:
Hmmmm.

Yuasa:
I always put in a 'play' part so that I can fly higher, so I wonder if I should do something amazing that breaks through that part from the preparation stage. It is something that will satisfy the viewer, but I wonder if 'satisfaction' can become 'joy' by raising the part that can be raised further.

G:
I see……. Earlier, in the story of 'a person who understands', there was a statement that 'this person is above the standard', but how does the person who can exceed the standard reach that point? Is there anything you can tell from the director's point of view?

Yuasa:
They have a high level of understanding of the style of the work and the intention of the production, and they have the technical ability to reach the standard. I think it would be great if there were staff members working as a team and a system similar to that, and those people continued to work as a team.

G:
It's like the '○○ group' that you often hear in live-action movies.

Yuasa:
I feel that it is difficult to create such a site in the anime industry as a whole, but I am wondering how I am doing it because there are places where I am making proper things. Assuming that there is the best environment, he says, 'How do you get to the best?'

G:
Is there a scene in this film that was as or better than directed by Yuasa? What kind of part is it?

Yuasa:
Speaking of drawing, the Inu-Oh is dancing hard, drawn by Yoshimichi Kameda , the chief animation director. When I saw the original picture of Mr. Murakami's ballet scene, I was happy that I had nothing to do anymore. The drawing of the dog king running around the village, the distortion caused by the slow shooting of the mask, the acoustic change of the place where the dog king calms down from the early turn of the times, and the place where the dog king finally comes. The vocal that flies as the whale climbs, where the story comes from the opening song. …… But the good scenes are not the credit of one person, but each of them properly grasped the intention of the scene in the subsequent process and did not lose or amplify until the end.

A part of the main video looks like this

Theatrical animation 'Inu-Oh' main video-Inu-Oh running in the city of Kyoto-May 28 (Sat) National road show! --YouTube


Theatrical animation 'Inu-Oh' in-play song 'Udezuka' with lyrics Video May 28 (Sat) National Road Show! --YouTube


G:
Is it one of the points to be able to express movement?

Yuasa:
In recent years, I think that painting is especially important in the case of anime, but I saw a diorama writer who makes amazing miniatures on TV before, and I wanted that kind of creation when laying out. It's your intention to 'create a scene' in your section. It's so difficult that no one is doing it now, but it's impossible to do it just by directing, drawing director, art, and shooting. I have to think about how to do it.

G:
Is it okay to give more individuality?

Yuasa:
Sometimes my motivation goes idle (laughs), but if I have an understanding of the work style. Or do you know this and think about how to use that person? I think that if there are people who are doing more than the minimum that can contribute to the work, I have to evaluate it. However, there are many misunderstandings about this intention, so the first thing to do is to get people to understand it.

G:
Finally, I would like to receive a message for those who are wondering whether to go see this work.

Yuasa:
It's a historical drama, but it's not a difficult story. Please watch the lives and live performances of the two young people who are growing up. If you pay attention to the lyrics, you will be able to understand what you are doing. I think it's a movie that you can enjoy instead of sitting still, so please come to the theater with loud sounds and screens.

G:
Thank you very much.

The movie 'Inu-Oh' will be released on Saturday, May 28, 2022. As directed by Yuasa, it's a work that feels like you're experiencing a live performance, so if you watch it in a movie theater equipped with audio equipment instead of waiting for it to be delivered, the impression you get will change dramatically.

Theater animation 'Inu-Oh' main notice (60 seconds) May 28 (Sat) National road show! [Masterpiece ver.] --YouTube

©2021 "INU-OH" Film Partners
Distribution: Aniplex, Asmik Ace