I tried playing the vertical scroll STG 'Radiant Silver Gun' with Nintendo Switch that uses 7 + 1 types of weapons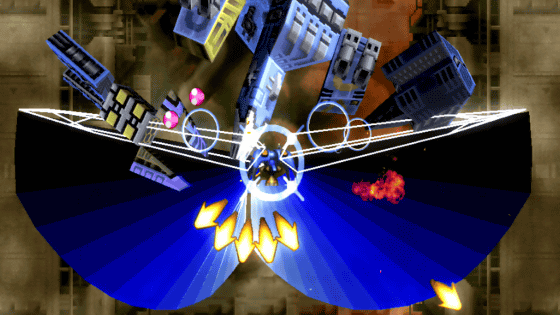 Treasure
, known for developing games such as '
Gunstar Heroes
', '
Yu Yu Hakusho ~Magical Unification Battle~
' and '
Ikaruga
', released a vertical scrolling shooting game (
STG
) at the arcade in 1998.
Silver Gun
'. The Nintendo Switch version of this work, which had been ported only to Sega Saturn and Xbox Live Arcade (Xbox 360), was released on September 13, 2022, so I actually played it.
Radiant Silver Gun Download Version | My Nintendo Store
https://store-jp.nintendo.com/list/software/70010000027735.html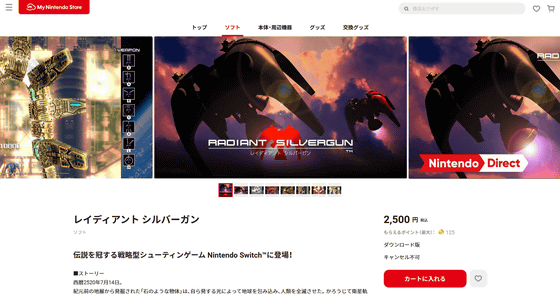 The top screen looks something like this.


There are two play modes, 'SINGLE PLAYER' for one person and 'MULTI PLAYER' for two people. Select SINGLE PLAYER this time.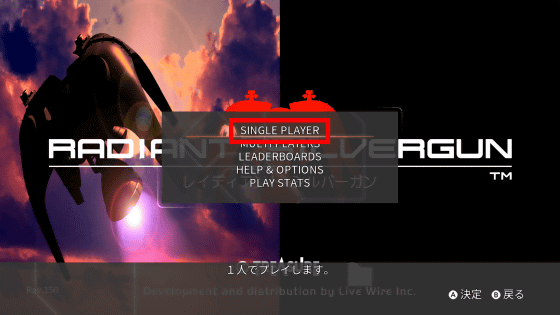 There are two game modes, ``ARCADE MODE'', which is a port of the arcade version, and ``STORY MODE'', which has a story part added in the Sega Saturn version. This time I chose STORY MODE.



You can choose from four modes: 'NORMAL PLAY' for normal play, 'SCORE ATTACK' for aiming for a high score, 'TRAINING' for practicing stages, and 'REPLAY' for viewing your recorded play. Proceed with NORMAL PLAY.



Select 'NEW GAME'.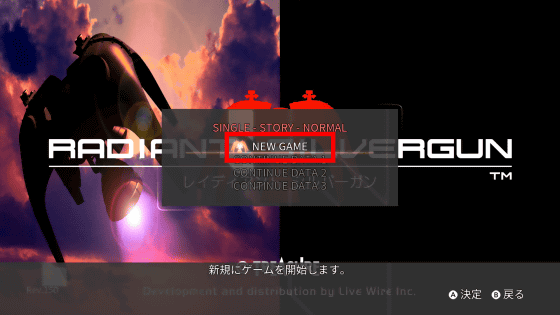 Select 'Start game'.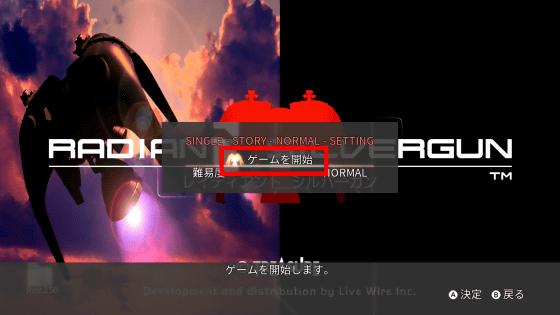 You can see what kind of game Radiant Silver Gun is by watching the following play movie.


Play Treasure's vertical STG `` Radiant Silver Gun '' Nintendo Switch version that uses 7 + 1 types of weapons properly-YouTube
'July 14th, 2520 AD. A 'stone-like object' excavated from a BC stratum enveloped the earth with its own light and annihilated mankind. The space cruiser 'TETRA' barely escaped into satellite orbit. With four crew members and one Robonoid left behind... A year later, TETRA, who has been looking for a plane from orbit, finally runs out of supplies on board.TETRA has no choice but to re-enter the atmosphere. and will start a battle for the survival of mankind.' Character voices and cut-in effects have been added to the story mode.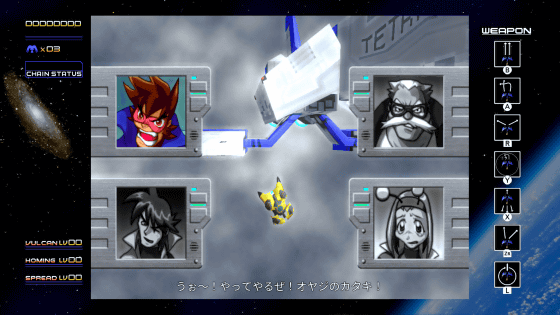 In addition, if you leave it on the title screen, you can see the story part until the game starts with full voice animation.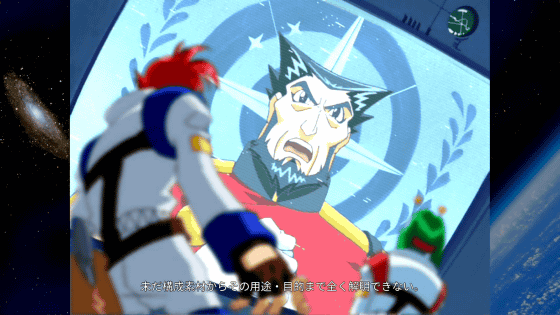 That's why the game started. The first stage is STAGE 3A.



A feature of the Radiant Silver Gun is that you can choose from 7 types of attack shots.

'Vulcan Laser' is a normal weapon that fires forward. The attack range is narrow, but the power is high.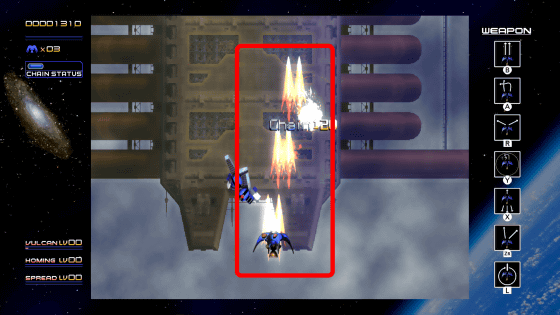 'Homing bullets' fire forward bullets that automatically track the closest enemy to your aircraft. Since it automatically targets the enemy, the attack range is wide, but the power is low.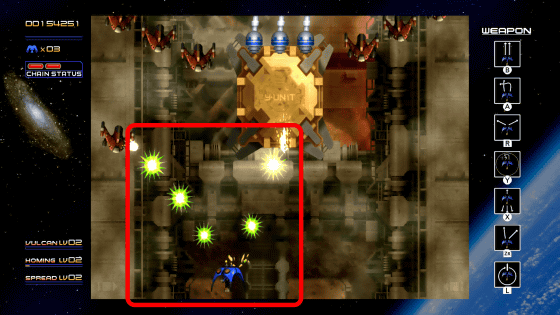 'Spread bullet' fires two explosive bullets slightly forward on the left and right. When you press and release the button, the bullet explodes and damages the surrounding area. The power is high and the hitbox is wide, so you can easily defeat enemies approaching from the left and right. Because it becomes thin, it is important to use it where it is used.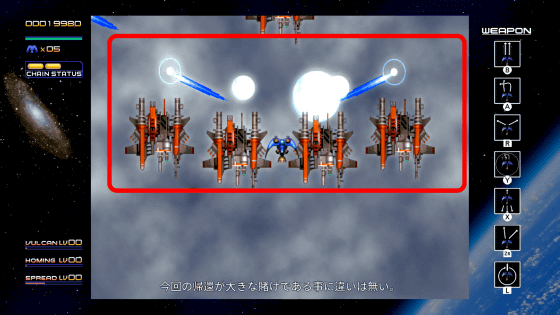 'Homing Spread' moves the aim in a circle centered on your machine, locks on to enemies within range and fires a laser beam. When the laser hits, it creates a blast. Homing spreads are useful against stationary enemies such as fixed turrets.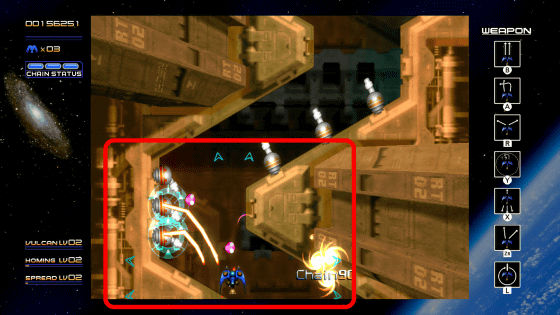 You can also find 'Mary-chan' hidden somewhere in the stage if you use the homing spread's automatic lock-on to hit the blast.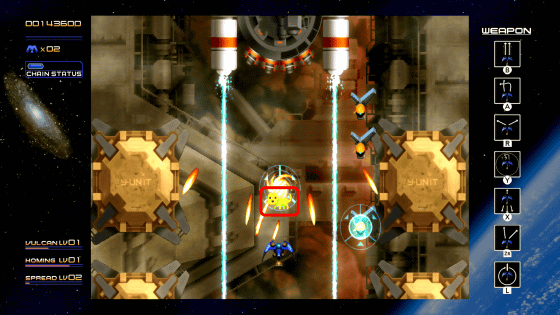 Bow-wow! At the same time as you hear a cry, Mary will disappear and you can get a high score.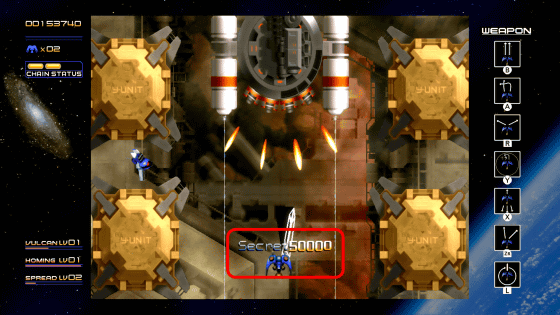 'Wide Shot' is a weapon that fires 1 row forward and 3 rows behind. Since it can attack forward and backward at the same time, it shines in situations where it is likely to be pinched from the front and back.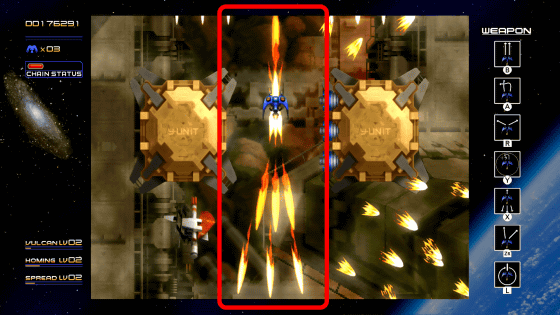 'Homing Plasma' fires two aiming lasers forward and shocks enemies that overlap the lasers. The biggest feature of this weapon is that it 'penetrates the terrain', so you can attack enemies on the other side of the wall as shown in the image below.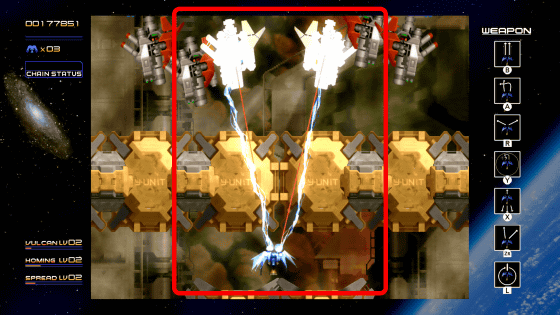 And the seventh weapon is 'Radiant Sword'. During the game, enemies may shoot pink bullets as follows.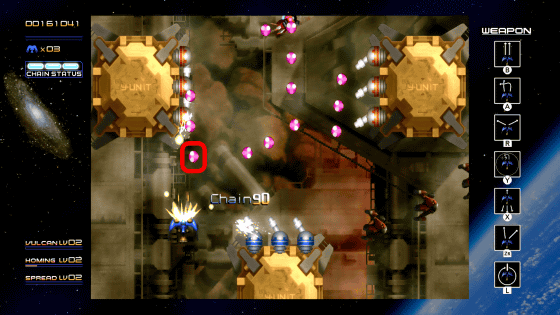 Radiant Sword is a super close-range technique. By swinging around, you can erase not only enemies but also pink bullets. In other words, even if the enemy shoots a lot of pink bullets, you can break the situation by swinging the Radiant Sword.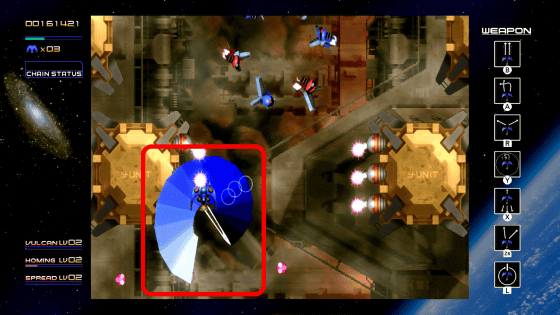 And if you erase a lot of pink bullets with the Radiant Sword, the gauge in the upper right will accumulate. When the gauge is full, your aircraft will shine for a moment.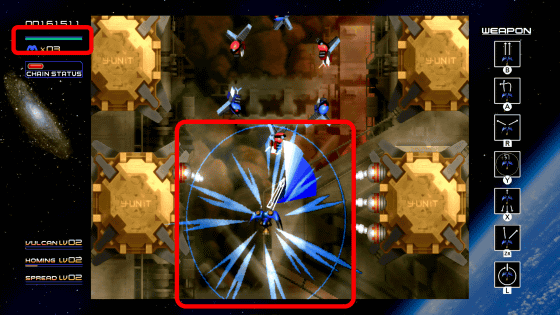 If you put out the Radiant Sword in this state, you can put out a transcendentally powered-up 'Hyper Sword'. This hyper sword is the eighth weapon.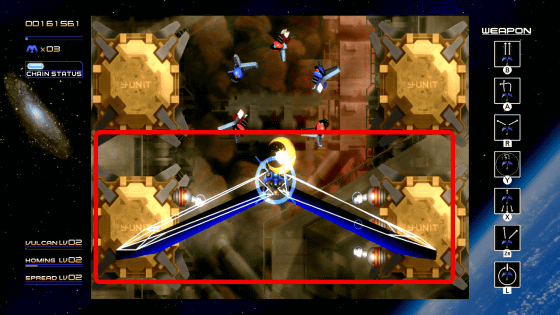 Thrust out a huge sword and sweep from the back of your aircraft to the front. Since the power is enormous and it becomes invincible during activation, it can be used as an emergency avoidance, but once used, the gauge will be empty. If you get hit by pink bullets during the game, it is important to frequently erase them with the Radiant Sword and save the gauge.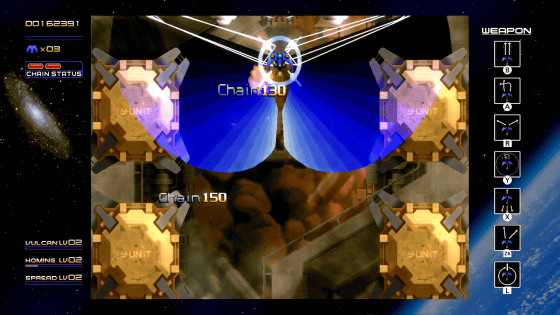 So, for example, a small enemy that rushes in at the beginning of STAGE 3A can be quickly defeated with Vulcan...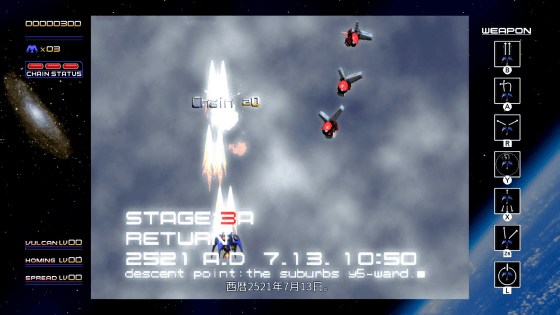 This small enemy shoots pink bullets, so it is also effective to defeat it with the Radiant Sword and save the gauge.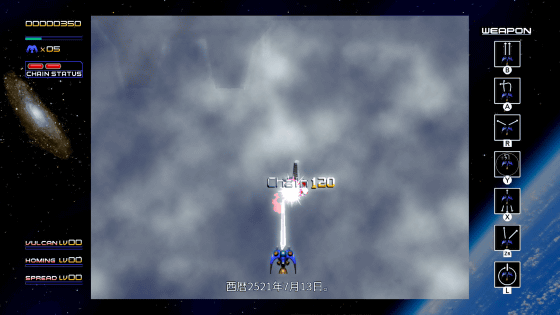 In addition, the proper use of the operation button of each weapon is like this. In the arcade cabinet (Kyotai), 3 button input is basic, homing spread, wide shot, homing plasma can be fired by pressing 2 buttons, and radiant sword can be fired by pressing 3 buttons. Of course, you can fire by pressing the buttons at the same time in the Nintendo Switch version, but since the buttons are set by default, you can play without pressing them at the same time.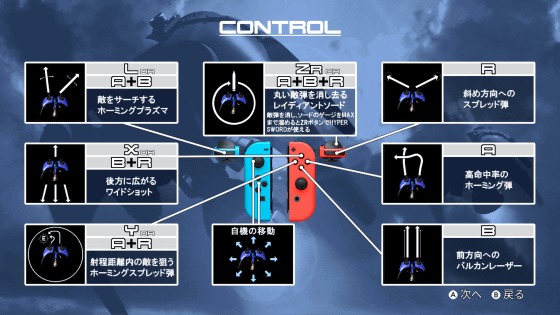 Another feature of Radiant Silvergun is the scoring system. Most of the enemies in Radiant Silver Gun are set in three colors: red, blue and yellow. And for every 3 enemies of the same color you kill, you get bonus points. Below are three red enemies coming.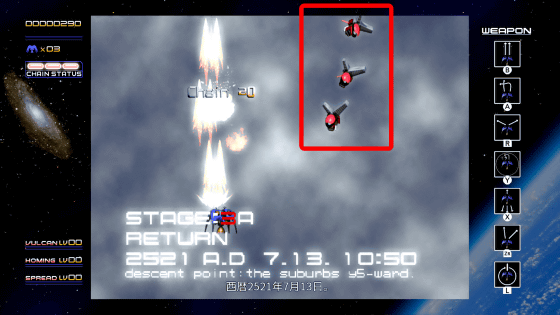 When I wiped it off with a Vulcan laser, the upper left CHAIN STATUS was filled with three red gauges and 'Chain 480' was displayed.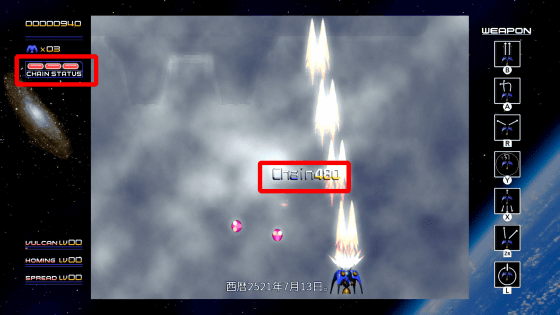 And if you keep using the weapon, the level of the weapon will increase. As weapons level up, they become more powerful and have a wider attack range. Therefore, if you have a weapon you want to strengthen, you need to prioritize using that weapon.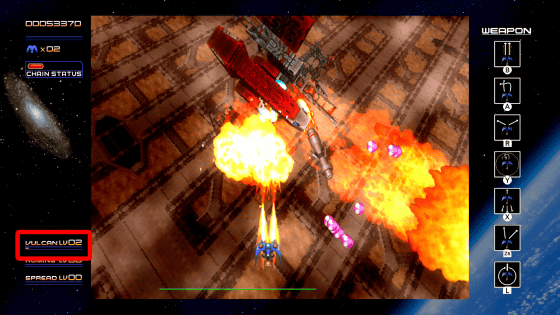 That's why I'm going to advance the game while strengthening my weapons, but it's a pretty heady task to proceed while using 7 weapons and hyper swords properly. It is necessary to proceed while thinking 'Which weapon is the correct answer to use in this situation? .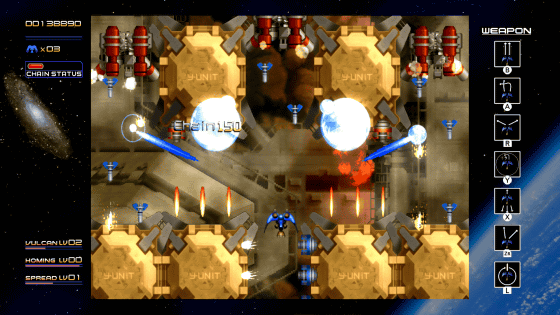 Can't you get over it now? There are also enemies who come to visit you with bullets that make you think. In order to defeat the enemy before it is surrounded by bullets, it is necessary to remember the timing and position of the enemy's appearance.



For example, in the scene below, the middle of the three enemy planes is attacked with a Vulcan laser.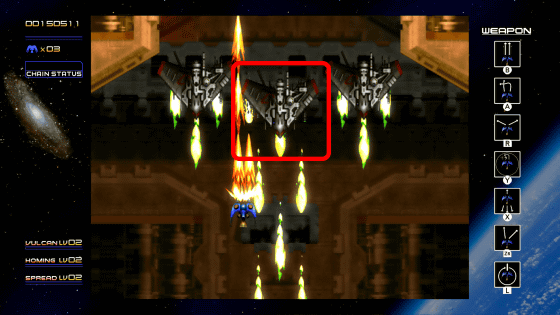 While avoiding the enemy's bullets, it was defeated brilliantly.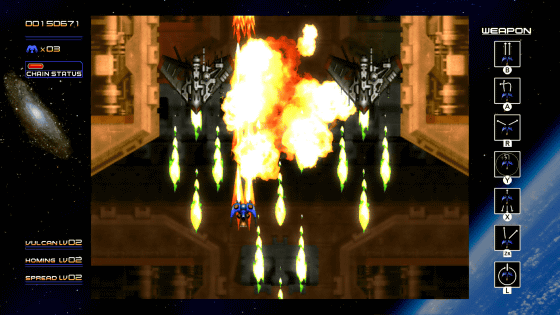 However, in the next moment, a huge spaceship rushed in, penetrating the middle. Of course I couldn't avoid it, and I was hit and killed. There are many scenes in Radiant Silver Gun that make you want to shout, 'It's impossible to clear such a gimmick for the first time!'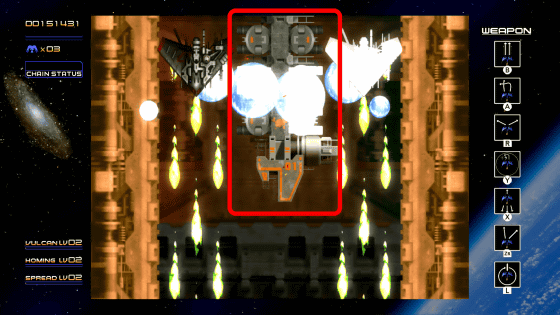 When playing at a game center, it is necessary to insert 100 yen more and more, but the Nintendo Switch version has a TRAINING MODE. With TRAINING MODE, the game continues no matter how many times your aircraft is shot down, so you can learn the patterns and terrain where enemies appear. However, you can only play stages that you have played once.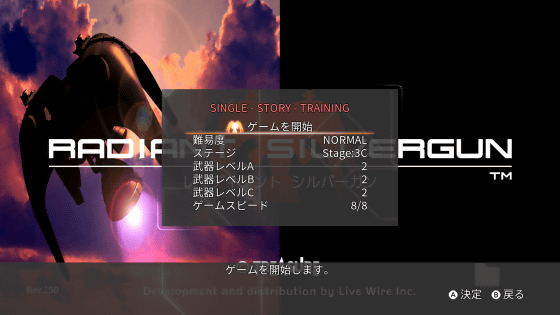 By using TRAINING MODE, you can deal with the capture of the stage boss. The stage boss tortures players with huge lasers and tons of bullets.



However, if you remember that in TRAINING MODE, ``If you have made this move, a lot of pink bullets will be spit out'' ...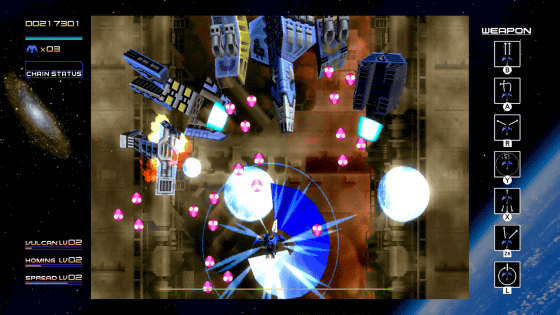 It is also possible to unleash the hyper sword and deal great damage.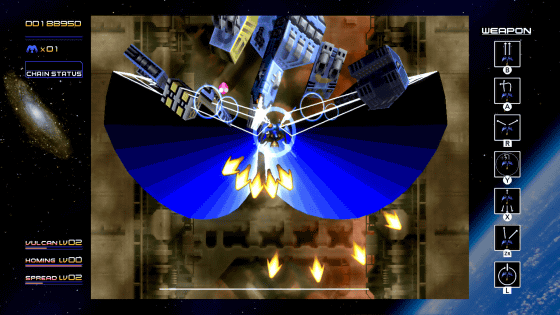 By carefully observing attack patterns, you will be able to avoid even seemingly impossible attacks.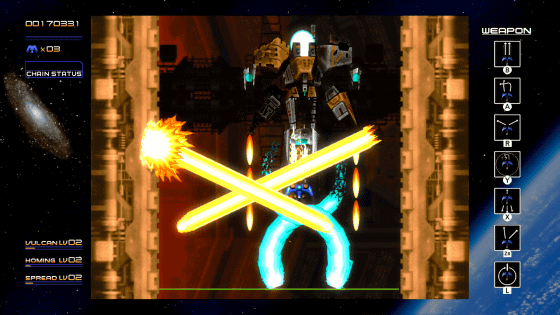 If you've ever wanted to play Radiant Silvergun, you've got to head to a working arcade, buy the Sega Saturn version, which sells for a pretty high price even used, or get an Xbox 360 installed. There was not. With the introduction of the Nintendo Switch version this time, it can be said that it has become easier for people who say, 'I wanted to play once but didn't have the opportunity.'

Actually playing Radiant Silver Gun, the difficulty level is quite high, and it may be quite severe for those who have not played shooting games much. In addition, the system is quite special, and it can be said that it is the content that selects people. However, by using 7 types of weapons, there are various ways to attack, and you can get the knowledge that 'Is it possible to clear this part with this method?' A good deal. If you use TRAINING MODE to memorize the stages and build patterns, you will be able to get through the scenes where you have been beaten before without any mistakes, so even those who have given up on the arcade strategy can try again and again. I can do it.

Radiant Silver Gun is available for download on the Nintendo eShop. The price is 2500 yen including tax.

Radiant Silver Gun Download Version | My Nintendo Store
https://store-jp.nintendo.com/list/software/70010000027735.html