'Thomas the Tank Engine' is fully renewed to 2D animation and the cast is renewed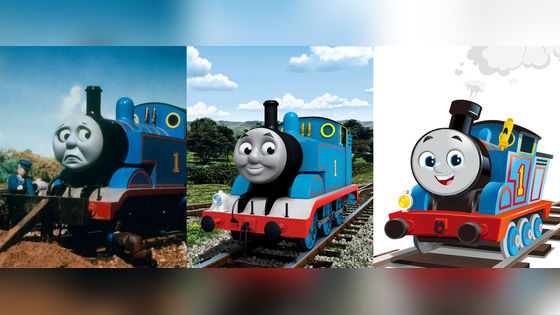 The content 'Thomas the Tank Engine', which is popular with children, has been completely renewed for the first time in 12 years, and the appearance and cast have been renewed. In the spring of 2023, ' Movie Thomas the Tank Engine Aim! Spring Championship ' will be released as this new Thomas.

'Thomas the Tank Engine Aim! Dream Champion Cup" Official Site Spring 2023

https://movie2023.thomasandfriends.jp/
'Thomas the Tank Engine' is a work that visualized Mr. Wilbert Audrey's 'Train Picture Book', and broadcasting started in England in 1984 as a puppet show using a model railroad. In Japan, it began broadcasting on Fuji TV in 1990.
After that, since 2009, since models are expensive and there are limits to expression, they have been produced in 3DCG. And from the 2021 production, it will be changed to 2D animation. The transformation of Thomas is like this.



In Japan, in 2006, the cast was renewed when it was broadcast on TV Tokyo, and the role of Thomas was changed from Keiko Toda to Kumiko Higa, and the narrator was changed from Leo Morimoto to John Kabira. Since 2012, it has been broadcast on NHK E Tele. Since no cast change was made at this time, the voice change will be the first time in 16 years.

In the new work, the members of the Tidmouth locomotive, which Thomas belongs to, have also changed, and in addition to Thomas and Thomas's partner Percy, Kana, a female train from Japan following 'Bullet Train Kenji', Nia, a female locomotive from Africa, Five diesel locomotives, which have not been on good terms with steam locomotives, will be regular trains. As they are replaced, Gordon and others disappear from the Tidmouth Agency, but it is said that they are still running around the island of Sodor.

The new cast includes Mimi Tanaka as Thomas, Kanade Koshino as Percy, Rumi Okubo as Kana, Erina Koga as Nia, and Momoko Yamafuji as Diesel.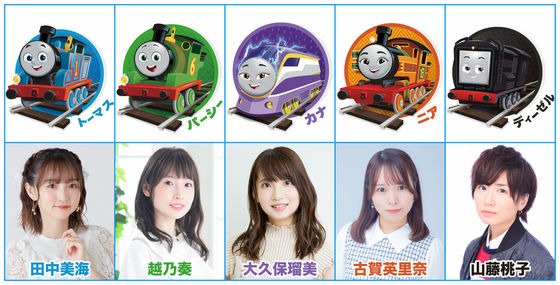 In the movie's specials video, you can see more comical expressions and acrobatic movements than ever before as a result of becoming 2D animation.


I will renew! 'Thomas the Tank Engine Aim! Dream Champion Cup 'Special News-YouTube
© 2022 Gullane(Thomas)Limited.
'Thomas the Tank Engine Aim! Dream Champion Cup' will be released in the spring of 2023.