Danbooru official, which became the source of learning about illustration automatic generation AI 'NovelAI', announced a statement


Image generation AIs such as Stable Diffusion and Midjourney learn from datasets made up of a large number of images. NovelAI, which has become a hot topic for its ability to generate high-precision 2D illustrations, is said to include many images from the overseas 2D image site Danbooru in its learned datasets. Danbooru's official management team has issued a statement about NovelAI.

Contact | Danbooru
https://danbooru.donmai.us/contact

Danbooru is a site where you can post and share 2D illustrations, and it is especially popular for its abundant tags that indicate the content drawn in the illustrations and excellent searchability. However, it is a problem that many of the 2D illustrations uploaded to Danbooru are reprints of works posted on SNS such as Pixiv and Twitter.

The management of Danbooru says, ``Please send an email to [email protected] to request the deletion of the image. I would appreciate it if you could do it, "he said, and said that he would respond to unauthorized reprints.

In addition, Danbooru issued the following statement regarding NovelAI, which uses Danbooru images as a dataset.

First of all, we want to make it clear that we are not affiliated with NovelAI and that we do not endorse or even condone what they are doing.
For artists who do not want NovelAI to use their drawings, the most efficient way is to contact NovelAI directly, delete their drawings from the company's learning data, and create AI art. It is a request to exclude your name or pseudonym from the 'prompt' (instructive text) that the user enters.
At this point, NovelAI's learning data has already been completed, and due to the structure of the AI model, even if you delete a picture from Danbooru, the information learned from that picture will not automatically disappear from NovelAI's hand, so please be careful. please give me.

Even if a picture has never been uploaded to Danbooru, it is highly likely that it will be collected by NovelAI etc. once it is posted on Pixiv or Twitter.
In other words, I would appreciate it if you could think that the pictures that NovelAI can collect from Danbooru can also be collected from Pixiv and Twitter.
In the first place, most AI art generation services such as NovelAI create their own AI models based on Stable Diffusion, the software provided by Stability.ai.
Stable Diffusion itself was created by collecting 5 billion pictures as training data from various sources on the Internet.
That means not only Twitter, Pixiv, ArtStation, DeviantArt, and other sites that artists often use, but also Reddit, Pinterest, Facebook, Google image search, and countless other sites.
If it is a picture taken in Stable Diffusion, it seems that even if it is deleted from Danbooru now, the effect will be thin.

In other words, what I would like artists to understand is that the AI model of the AI art generation service is learning not only from Danbooru, but from the entire Internet.
As long as the pictures are open to the public somewhere on the Internet, there is always the danger that they will be taken up as learning data.
There is no way to prevent it other than contacting the developer of the AI model.



Danbooru management introduces a site where you can check whether your work is being used for learning image generation AI.

``Have I Been Trained?'' that allows you to search whether your work has been used arbitrarily for image generation AI-GIGAZINE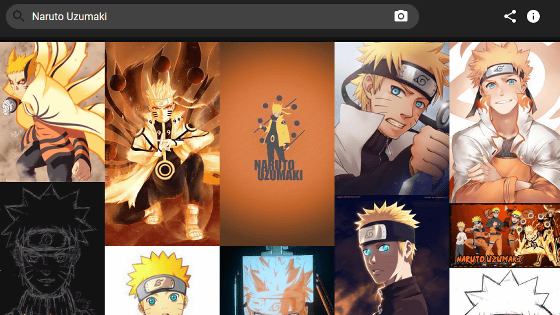 Also, after declaring that you do not want your picture to be used for AI learning, you can notify the AI developer by using the following service.

Spawning
https://spawning.ai/

There are many posts on Twitter about what kind of illustrations can be generated with NovelAI.

# novelAI This is amazing ... I can do anything anymore ... pic.twitter.com/eRO2LxHKwe

— Polygon Z (@ZporigonZ) October 4, 2022
It would have been nice if the VRChat photo was loaded into NovelAI pic.twitter.com/S1VmdJWBrW

— Nemumu Shito ???? Robobo Shito ???? In operation (@nemumusito) October 4, 2022
#NovelAIDiffusion #novelAI
I had a picture of a figure turned into an illustration by AI.
When I tried to make use of the original picture by adjusting the parameters, it became quite close pic.twitter.com/yOEgrSlSYl

— Kamipallet (@ kaimipallet2) October 4, 2022
#novel AI
It seems that this is what happens when I put Irasutoya into this guy.

— cross (@CROSS_VoidLove) October 3, 2022
A consideration of fixing the texture of the picture with black hair and blond lily prompts. Do not use existing artist names.
The lily output itself is stable.
1 is the coloring that NovelAI is good at, 2 is anime painting with dark shadows, and 3 is watercolor-like, making it a slightly nostalgic pattern.
I thought that there was no width of the pattern, but it depends on the character specification. #NovelAI #NovelAIDiffusion pic.twitter.com/dRepgc83CK

— Episode 852 (@ 8co28) October 5, 2022
#NovelAI #NovelAIDiffusion

Three-sided view of the character (some are oblique)
Somewhat uncomfortable, but fairly high quality
3D modeling seems to be progressing in the VTuber neighborhood and the VRC neighborhood pic.twitter.com/nL3xasLiXY

— Episode 852 (@ 8co28) October 4, 2022
Cute brown female oysters in summer.
Evil smile is convenient for the expression of the female brat. After that, I'm grateful that when I put in the Armpit, it naturally moves to show my armpit. #NovelAIDiffusion #novelAI pic.twitter.com/4P2HNS16lN

— MABO (@G03MIAq1YTrRVOR) October 5, 2022
Just by adding words such as rain, wind, butterflies, it's too amazing to bring out a fantastic feeling ... #NovelAIDiffusion #novelAI pic.twitter.com/PYex6P3c7z

— MABO (@G03MIAq1YTrRVOR) October 4, 2022
[Translated by DeepL] In the warehouse of the school gymnasium, a bloody girl in a sailor suit sticks out a kitchen knife. There is no light in the eyes, and the atmosphere is about to attack. #novelAI pic.twitter.com/ePaBcUx1J1

— Aldehyde @ "Kimi wa Fusashi" Volume 1 will be released on September 9th! (@alde_hyde) October 4, 2022
The topical guy, I tried to generate it from the illustration I wrote on the site (first one)! #NovelAIDiffusion #NovelAI pic.twitter.com/pewfqJKN4C

— picco (@picco_xxx) October 3, 2022
#NovelAI #NovelAIDiffusion

They also put out an endless collection of croquis poses like the first one,
It is possible to output full-color pictures of various angles and poses of the same character in the same costume on the 2nd, 3rd and 4th sheets.

— Episode 852 (@ 8co28) October 4, 2022
Uoh perfect pose specification with 3D model and # novelAI pic.twitter.com/Q2y7a5aGi1

— Max (@ minux302) October 3, 2022
#NovelAIDiffusion #novelAI released 4
No, anyway, it's more dangerous than ever before ... Habits and tastes ... It's that ... A little girl is too strong This is ... pic.twitter.com/Q02rchIYq6

— Episode 852 (@ 8co28) October 3, 2022
I tried using NovelAI, but it's really amazing...
It was too cute, so I made it for a little girl
#NovelAI pic.twitter.com/LWcUcrt1t8

— MABO (@G03MIAq1YTrRVOR) October 3, 2022
Isn't it a monster to generate images so accurately with instructions that were only roughly translated with deepL? ? ? ? ? #NovelAIDiffusion #novelAI pic.twitter.com/2tNaHDiF8t

— Monochrome @Reverberate Aiming for birds (@MoNoKuRo1030) October 3, 2022
I moved the image output by #NovelAI with TalkingHeadAnime3 I think this is probably the fastest way to start a 2D VTuber pic.twitter.com/V8DvQChkRs

— [email protected] (@akagi_max) October 3, 2022
I see AI-kun #NovelAI #NovelAIDiffusion pic.twitter.com/RZVxVZZxhl

— Episode 852 (@ 8co28) October 3, 2022
The two end with a happy kiss...
It's amazing to be able to make a kiss picture that will soon go bankrupt without such a big sense of incongruity. Spells are ALT. #NovelAIAIDiffusion #NovelAI pic.twitter.com/JdqG160Szz

— Electric (@den2_nova) October 3, 2022
How to use NovelAI…………I got it

Left: Output image Right: Uploaded image pic.twitter.com/Ni2cQH6UHQ

— hoshimi12 (@ hoshimi12) October 3, 2022
I made a light novel-like picture so I tried to make it look like a cover #NovelAI #NovelAIDiffusion #aiart pic.twitter.com/YQYBwC9BWl

— Nikimonaka (@nkmonaka) October 4, 2022


There are many other models that use Danbooru images as datasets. There are various types of derived models of Stable Diffusion, and which model is learning using what data set is summarized in the following article.

Various usable model data specialized in image generation AI 'Stable Diffusion' Summary - GIGAZINE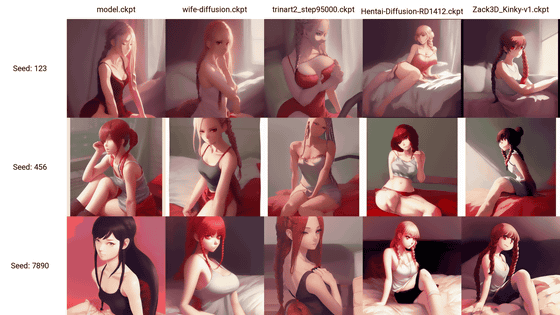 Also, NovelAI was originally an AI that automatically generates novels, and illustration generation is just one of the functions. Regarding the image generation part, it is said that it implements its own algorithm while following Stable Diffusion. However, unlike Stable Diffusion, which is open source and open to the public, NovelAI's source is not open to the public.

We decided to release #NovelAIDiffusion models as standalone releases:

NovelAI Diffusion Anime (Curated)
Good baseline quality and predictable subject matter.

NovelAI Diffusion Anime (Full)
The expanded training set allows for a wider variety of generations.

— NovelAI (@novelaiofficial) October 3, 2022