A ``mane'' grows from a group of lions with only females, and zookeepers are puzzled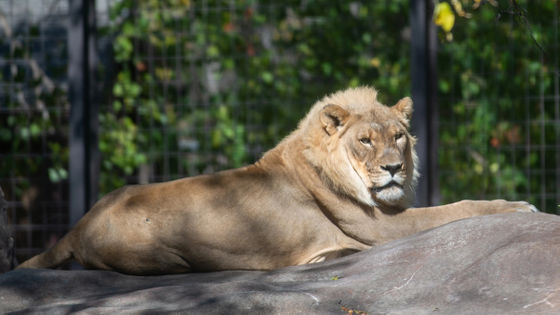 by Evert Nelson/The Capital-Journal

It turned out that one of the female lions in the Topeka Zoo in Kansas, USA, has grown a mane, which is a symbol of the male. Such cases are considered to be a rare phenomenon with only a handful of reports in the world.

Zuri, aging female lion at the Topeka Zoo, has grown a small mane

https://www.cjonline.com/story/news/local/2022/10/22/zuri-aging-female-lion-topeka-zoo-grows-small-mane-after-death-of-mate/69582710007/
Elderly female lion grows 'awkward teenage mane,' baffling zookeepers | Live Science
https://www.livescience.com/female-lion-grows-mane
The 18-year-old African lion `` Zuri '' at the Topeka Zoo has grown a mane even though it is a female, and it is said that the mane has started to grow since the end of 2020. The mane began to grow after the zoo's last male lion, Abus, died in October 2020.
Of the following, the left is Zuri in April 2020 and the right is Zuri in August 2022.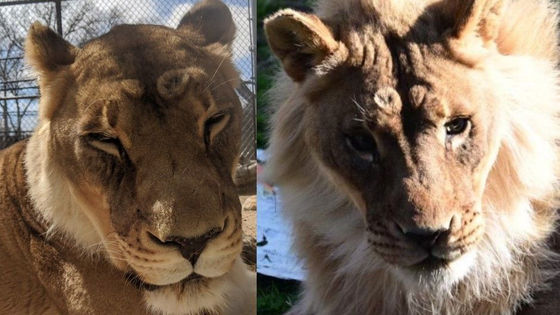 by Visit Topeka

Shana Simpson, an animal curator at the Topeka Zoo, said that shortly after Abus died, Zuri began to grow mohawk-like tufts. Zuri's mane has since become bushy, but not as magnificent as an adult male lion, and Simpson commented, 'She looks a little like a clumsy young boy.'

Zuri with a mane has changed not only in appearance but also in behavior, and it is said that he is becoming stronger and more often raises growls and barks.

Growing a mane from a female lion is extremely rare, but not unheard of. In captivity, a similar case was reported in 2011 at a zoo in South Africa, and in 2018 a female lion was found to have a mane at a zoo in Oklahoma, USA. There are also five reports in a 2016
paper
that observed wild lions living in Botswana.
Although the mechanism by which female lions grow their manes has not been fully elucidated, in the case of a zoo in Oklahoma, it was confirmed that
androstenedione
, a precursor of testosterone known as the male sex hormone, is secreted excessively. I was.
However, no hormone tests have been done on Zuri, so it's unknown if the same thing happens in Zuri's body. Simpson believes Zuri's mane may have grown out of a sense of duty to protect the herd, which is left to her and her sisters only, adding, 'She feels she has to protect her pride, so the testosterone is high.' It increased and the hair around my neck became thicker.'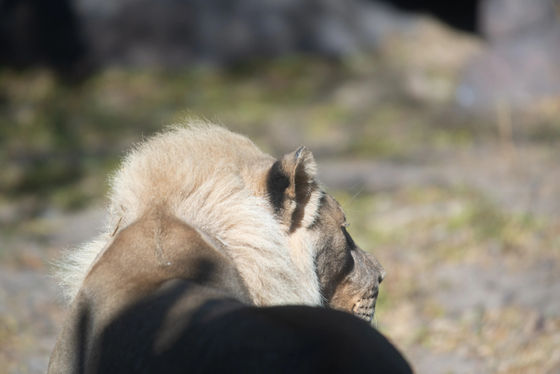 by Evert Nelson/The Capital-Journal

On the other hand, Panthera conservation scientist Kris Everatt, who works to protect wild cats, told Live Science, a science news site, ``There are no males, and there is intense competition with other females. , I don't think it's for that reason. It's probably just a coincidence.'

According to Everatt, Zuri's mane is thought to be due to changes in hormone secretion due to the age of 18, which is well above the average lifespan of 14.5 years for captive lions. About. Although Zuri has passed all health checks by the Topeka Zoo, he suffers from kidney disease and arthritis, which are common in older cats, and is managed with diet and medication.

Zuri, who is old but energetic, is a popular person at the zoo, and was visited by many children in costume at the annual Halloween event held on October 22nd and 29th, 2022.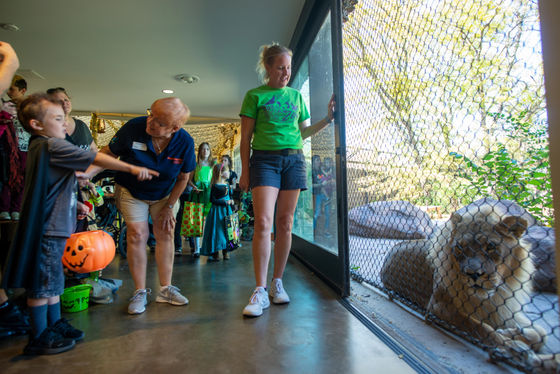 by Evert Nelson/The Capital-Journal