I actually tried using 'Make' which can link and automate applications and services like IFTTT and Zapier for free Review


There are many situations where it is convenient to link multiple web services, such as 'posting on Twitter to Discord at the same time' and 'summarizing the text of emails in a spreadsheet'. IFTTT and Zapier are famous services that link multiple web services, but there are problems such as few functions that can be used for free and few web services that support them. ' Make (former name: Integromat) ' corresponds to more than 1000 services, and it is said that it has the feature that it can be used with an unlimited number of users even with a free plan. So, I actually checked the membership registration procedure of Make and the linking procedure between web services.

Make | Work the way you imagine

https://www.make.com
To register as a member of Make, first access
the top page
of Make and click 'Get started free'.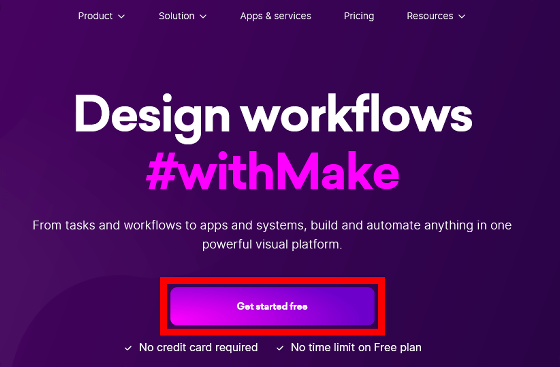 When the registration screen is displayed, enter your e-mail address, password, and name in order from the top, read the terms and conditions carefully, check them, and click 'Sign up for FREE'.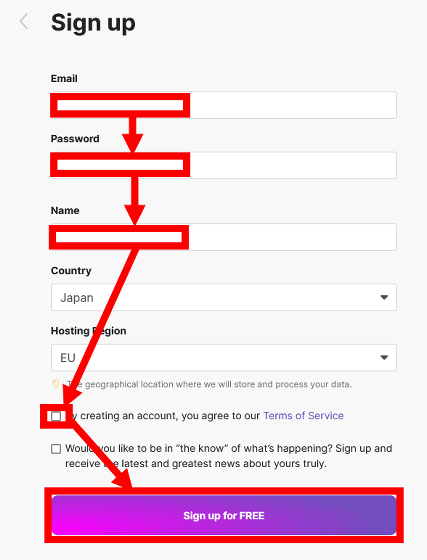 When you see the screen below, open the inbox of the email address you entered to check the verification email.




Since the following email has arrived from Make, click 'Verify email'.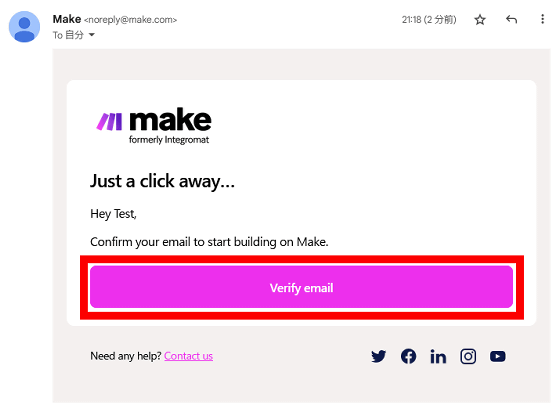 Then you can access the sign-in screen, so enter your email address and password and click 'Sign in'.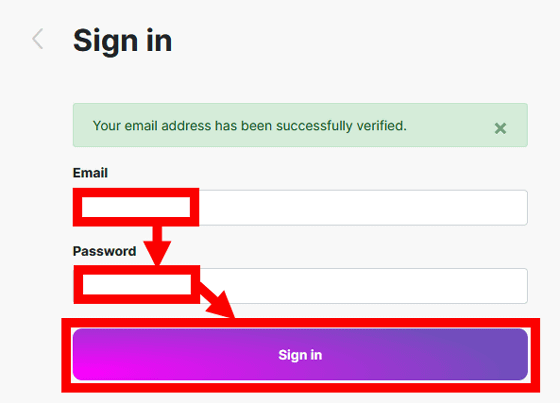 Next, a survey form will appear. From the top, enter ``role in affiliated company'', ``job type of affiliated company'', ``number of employees in affiliated company'', ``experience of automation'', ``purpose of automation'' and click ``Send'' OK.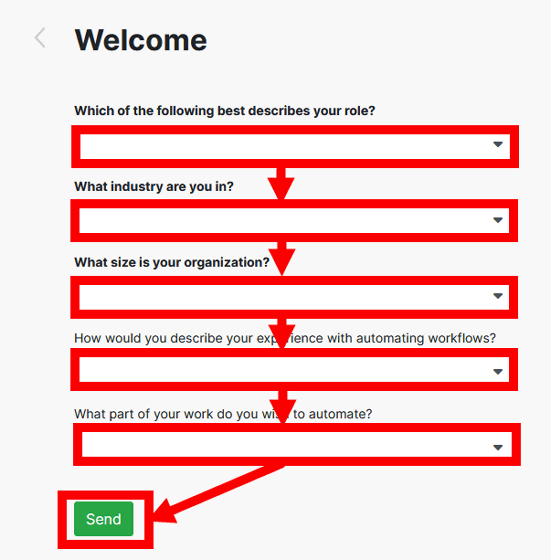 You will then see an example automation. This time, I clicked the 'x' in the upper right without following the example.



Below is the home screen of Make. At the bottom of the home screen you'll find automation templates for Sheets, Telegram, Notion, Discord and Facebook. This time I want to try Discord automation, so I clicked Discord.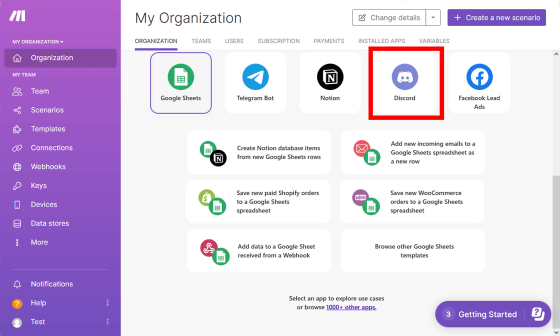 An example Discord template looks like this: Templates such as 'Enter posts to Discord in spreadsheet' and 'Post to Telegram to Discord' are lined up. If you want to check other templates, click 'Browse other Discord templates'.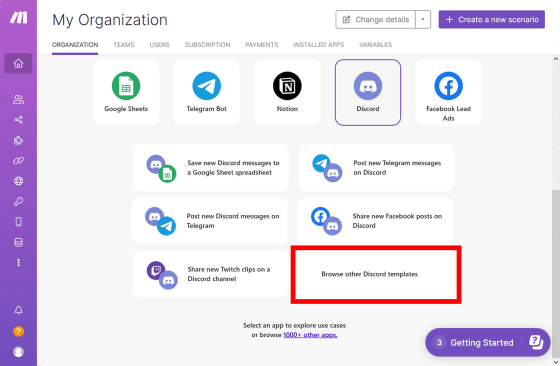 Then, Discord-related templates are displayed in a row. This time, I decided to use the template 'Post Twitter posts to Discord'.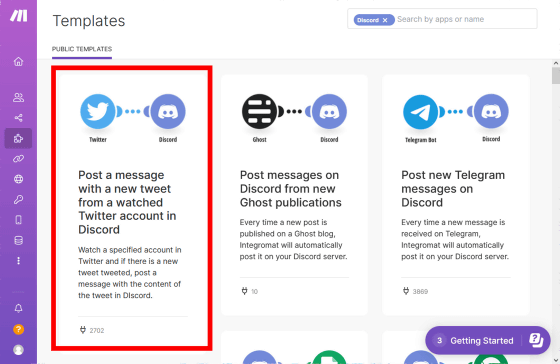 After selecting a template, click Create new scenario from template.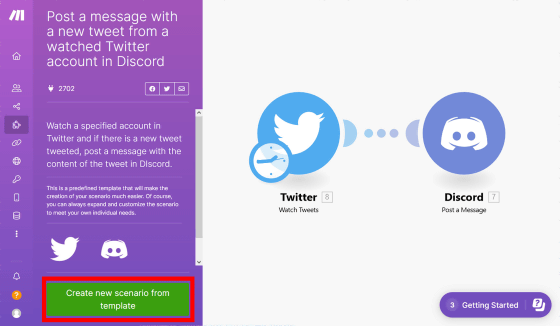 Then, you will be asked to register a Twitter account in Make, so click 'Add'.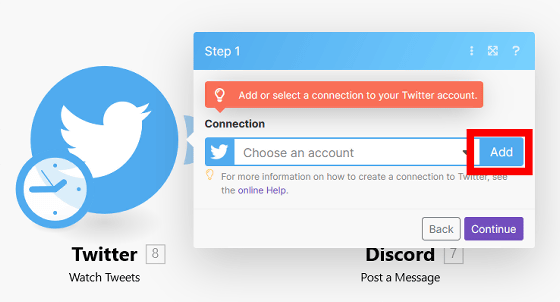 Then click Save.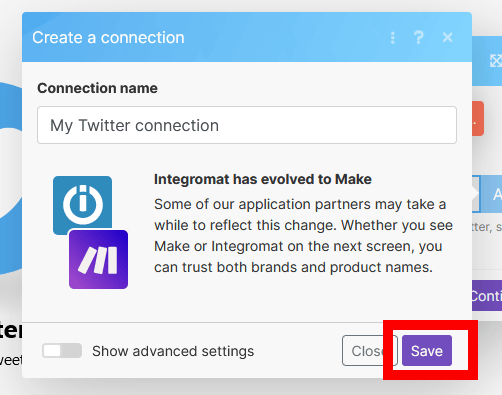 When the Twitter application cooperation screen is displayed, click 'Authenticate cooperative application'. If you are not logged into Twitter, you will be asked to log in.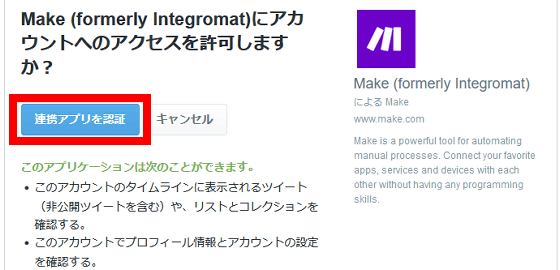 Next, you will be prompted to specify the accounts to be monitored. This time I wanted to repost my tweets to Discord, so I clicked 'My tweets' and then clicked 'Continue'.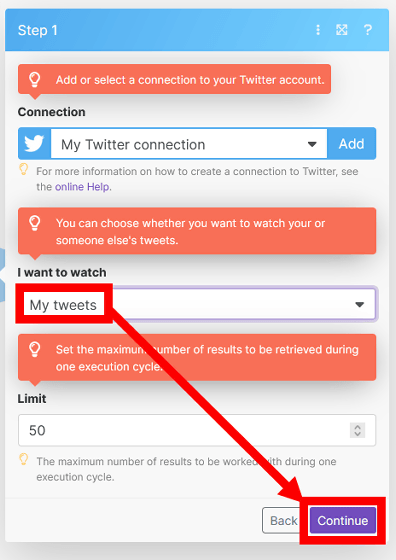 Next, you will be asked for the start time of cooperation, so select 'From now on' and click 'OK'.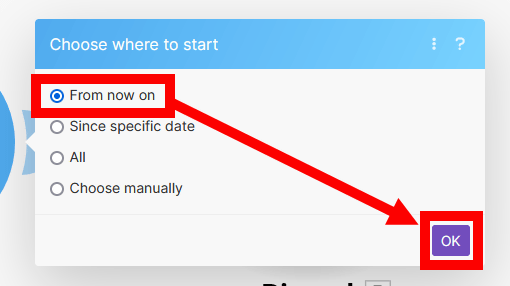 This time, Make will ask you to register a Discord account, so click 'Add'.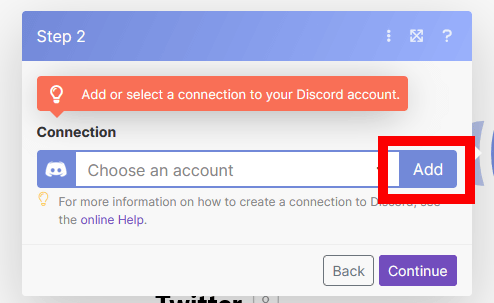 Click 'Save'.



When the login screen is displayed, enter your email address and password and click 'Login'.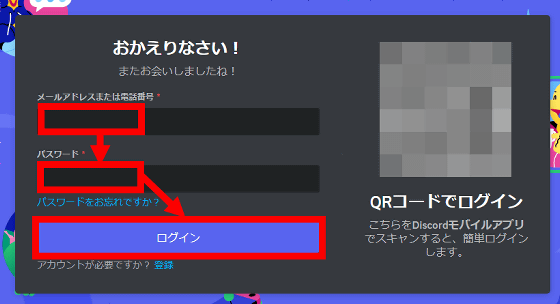 Next, select the server and channel where you want to repost the Twitter post and click 'Yes'.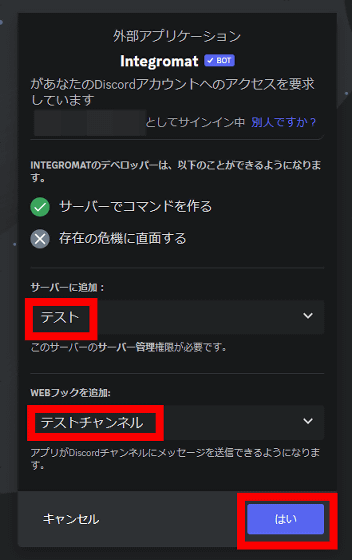 Click 'Authenticate'.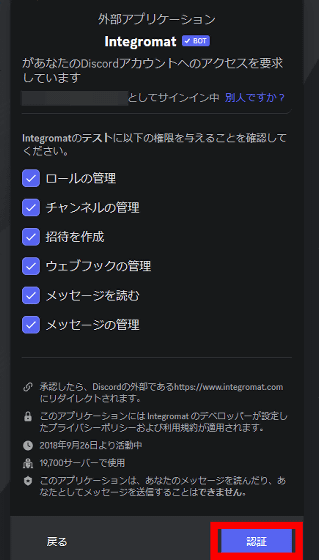 Click Continue.



When the following screen is displayed, the linkage work is complete.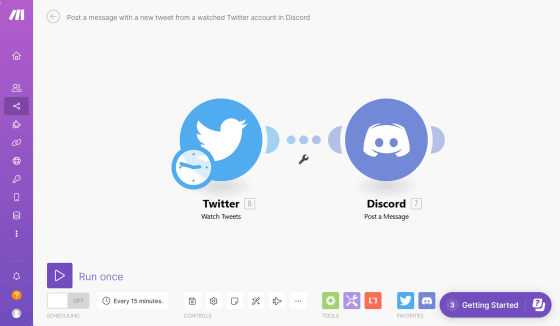 As a test, try tweeting with the registered Twitter account.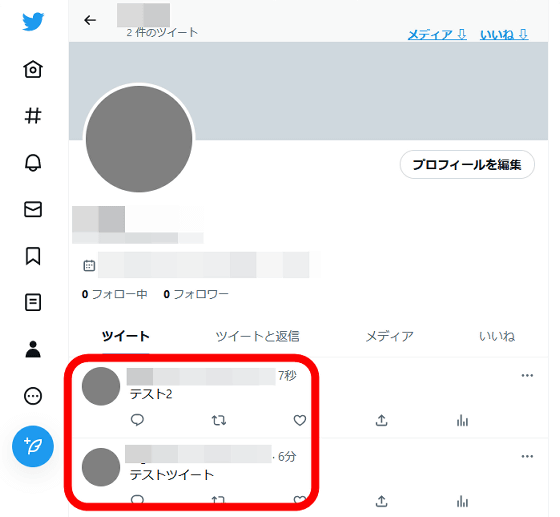 Next, click 'Run once'.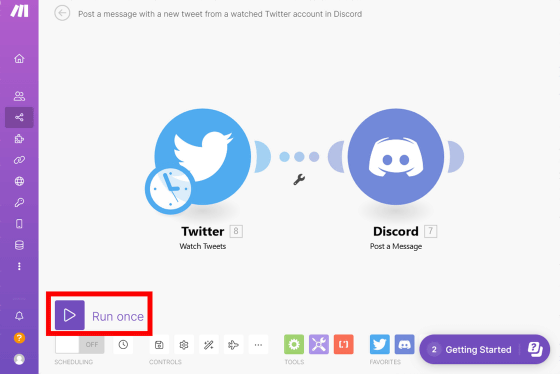 When the log is displayed at the bottom of the screen, the work is completed.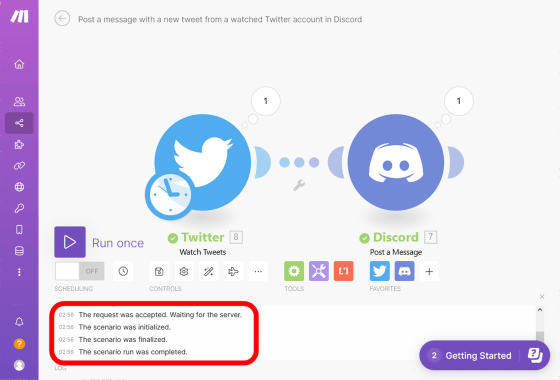 When I checked Discord, the content posted on Twitter was reposted.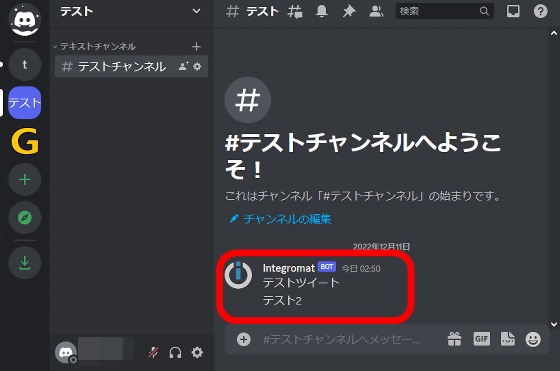 'Run once' is a one-time run. If you want to execute automatic work at regular intervals, switch the toggle switch placed at the bottom of 'Run once' to 'ON'.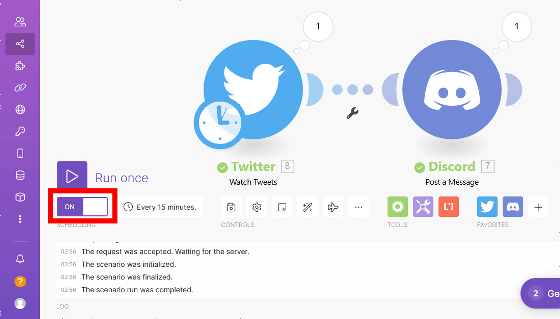 By default, it is set to run every 15 minutes. If you want to change the execution interval, click the part marked 'Every 15 minutes'.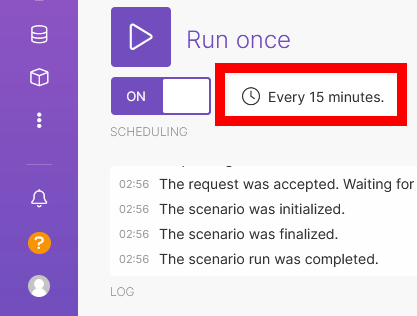 When the following screen is displayed, you can change the execution interval by changing the part marked '15' to any number.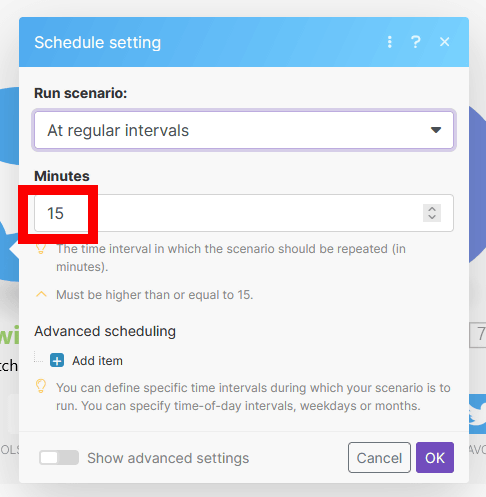 In addition to the setting of 'once every ○ minutes', you can also set 'once a day', 'once a week', and 'once a month'.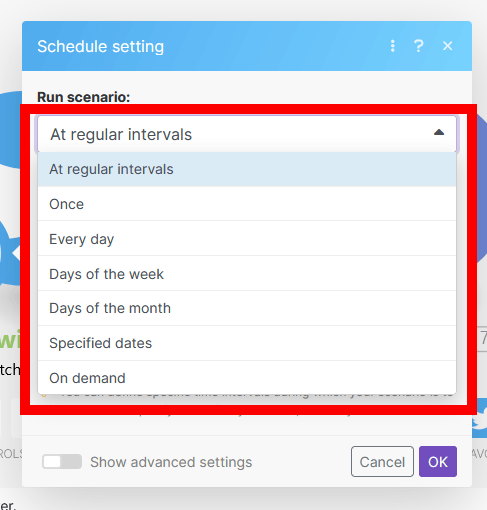 Once you've set your automated tasks to run at regular intervals, you'll see a list of scheduled tasks on the Make home screen.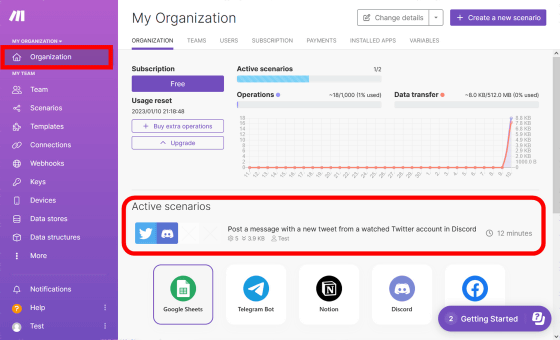 You can also check the work list by clicking 'Scenarios'.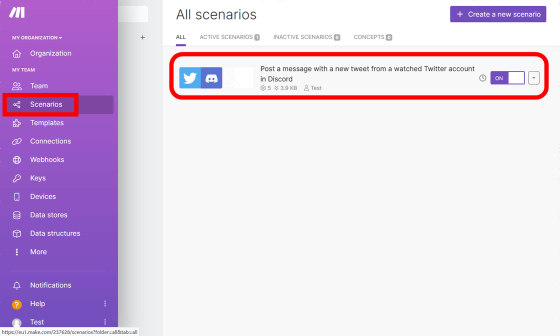 If you want to set your favorite automatic work without following the template, click 'Create new scenario' OK.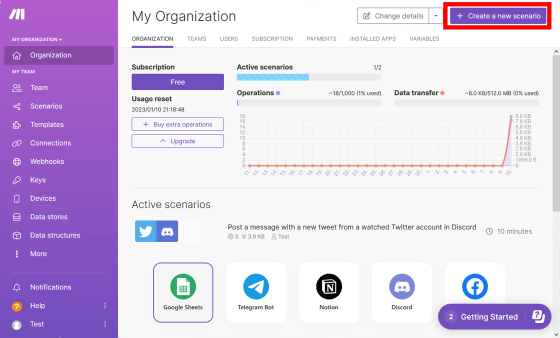 From this screen, you can register various web services and set automatic work.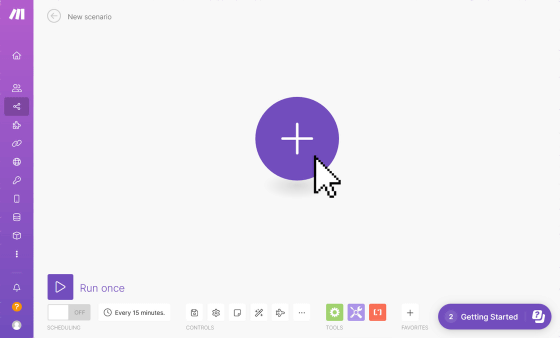 With Make, you can use more than 1000 services such as Google related services, Slack, Dropbox, Discord, Trello, etc. Advanced functions such as issuing SSH commands and reading and writing CSV files can also be incorporated into automated work.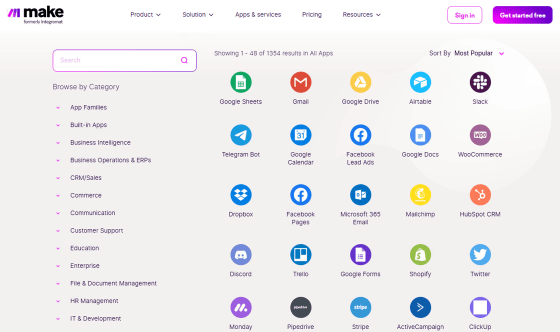 Make is free for basic usage, and you can register unlimited web service accounts even with the free plan. There is also a paid plan that
allows
you to use advanced functions such as 'execution interval can be set to a minimum of 1 minute' and 'unlimited simultaneous executions'.