Distribute automatically generated images by AI of characters such as Disney, Nintendo, Marvel, etc. that are strict in copyright to protest against image generation AI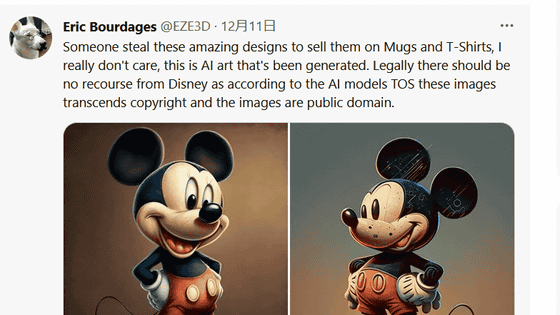 Image generation AIs such as Stable Diffusion and Midjourney are subject to debate due to the problem that the images contained in the datasets used during learning are collected without regard to copyright. In order to protest such image generation AI, it has become a hot topic that some people have dared to generate images of characters that are strict on copyrights such as Disney and Nintendo and question them.

Deniz Opal: 'Well this has come to a head. …' - vmst io
https://vmst.io/@selzero/109512557990367884

'Someone is stealing this awesome design and trying to sell it as a mug or a t-shirt, I don't care at all. AI model rant says these images are over copyright and the images are Since it's in the public domain, Disney shouldn't legally charge you anything,' said Eric Burderges, the character artist for the game Dead by Daylight .

Someone steal these amazing designs to sell them on Mugs and T-Shirts, I really don't care, this is AI art that's been generated. Legally there should be no recourse from Disney as according to the AI models TOS these images transcends copyright and the images are public domain.pic.twitter.com/aeHeUFd26v

— Eric Bourdages (@EZE3D) December 10, 2022


'The AI didn't steal anything to create the image below, so Nintendo or Marvel or DC wouldn't care. It's completely 100% original.'

More shirts courtesy of AI , I'm sure, Nintendo, Marvel and DC won't mind, the AI didn't steal anything to create these images, they are completely 100% original.pic.twitter.com/qqQPKWUWjN

— Eric Bourdages (@EZE3D) December 11, 2022


These images are generated by Midjourney.

For any thrifty entrepreneurs looking to create their t shirt empire, the process is simple.

Prompt-disney mickey mouse--
v4 - for midjourney version 4

pick your favorite

U2 and U3 for upres image 2 and 3

spin to win if nothing suggested suits your interest pic.twitter.com/yaUXFbsA2W

— Eric Bourdages (@EZE3D) December 11, 2022


'Since Midjourney is a paid membership system, strictly speaking, only the management of Midjourney profited from these images. I do not intend to profit from or claim rights to these images.'

Midjourney is a paid subscription btw, so technically the only one that profited off of this image is them. I have no intentions of profiting off of or claiming any of these images. They belong to the AI, MJ and the public, my contribution is that of a simple google search.pic.twitter.com/Z3ufqzo51W

— Eric Bourdages (@EZE3D) December 12, 2022


After that, Mr. Burdages received a refund from Midjourney, and access to the service was suspended.

Update - I was refunded and lost access to Midjourney. They are no longer profitting off of these images and I assumed didn't want copyrighted characters generated. I hope this thread created discussion around AI and where data is sourced

Here's some takeaways and opinions ???? https://t.co/jtFxKhQMVP

— Eric Bourdages (@EZE3D) December 13, 2022