I tried using a free application ``TwitVault'' that allows you to download your tweet history not only for images and movies but also for your history and lists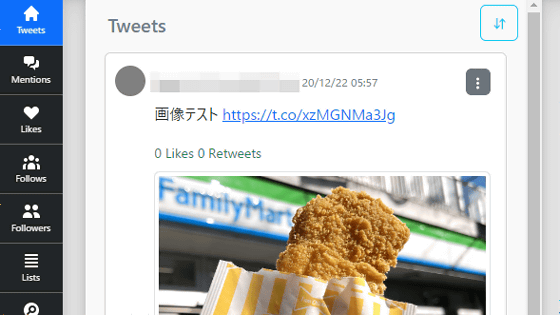 Creators who have posted images and videos on Twitter will want to save all the images and videos they have tweeted so far at hand when considering moving to another platform. If you are not a creator but have been using Twitter for a long time, it would be great if you could download a list of close followers, a list of accounts you found on Twitter, and a history of tweets you liked on Twitter. Twitter has an
official data archive function
, but the official function may wait for more than 24 hours until the data can actually be downloaded. With '
TwitVault
', which is open to the public for free, it is possible to download data quickly at your own timing, so I actually checked how to use it.
terhechte.github.io/twitvault/
https://terhechte.github.io/twitvault/
To use TwitVault, first access the
distribution page
and download the executable file. TwitVault has Windows, macOS, and Linux versions, but this time I want to use it on Windows, so I clicked 'Windows'.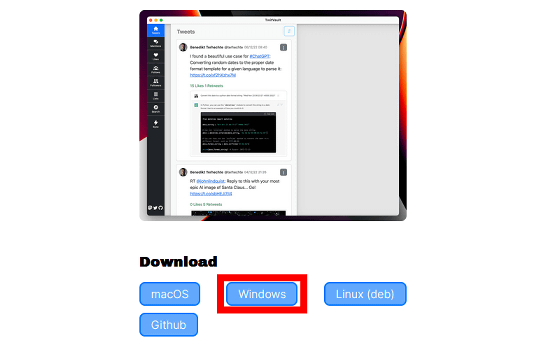 The file size of the executable file was 11.9MB. After the download is complete, double-click to run it.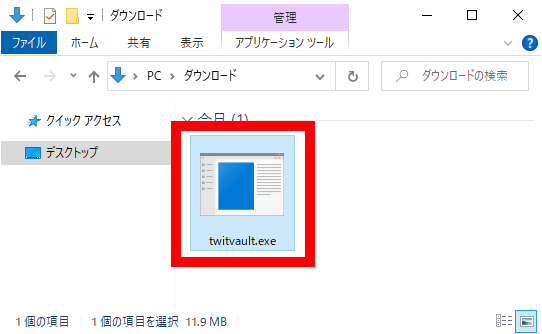 Click 'Run' when the security warning appears.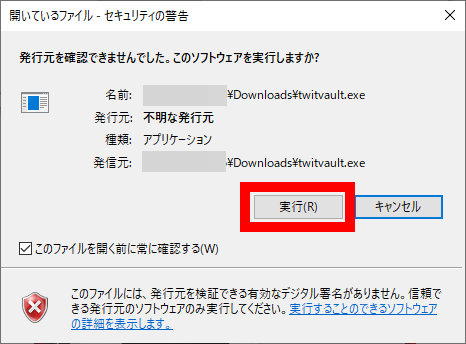 To use TwitVault, you need to link TwitVault with your Twitter account. First, click 'Next'.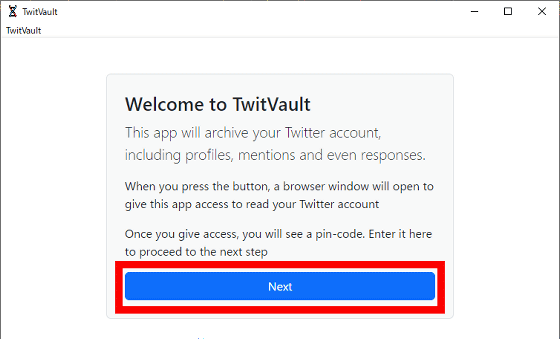 Then, the following page opens in the browser, so enter your Twitter user name and password and click 'Authenticate linked application'.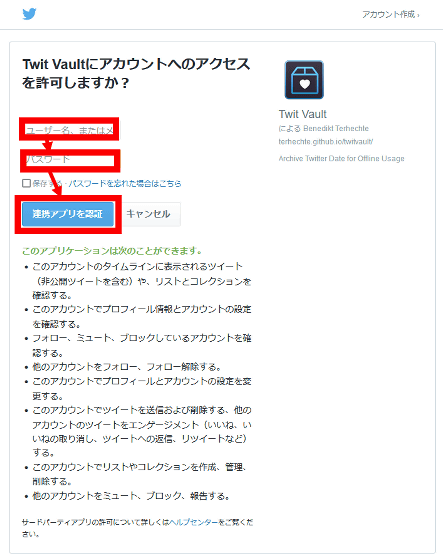 Make a note of the 7-digit code that will be displayed.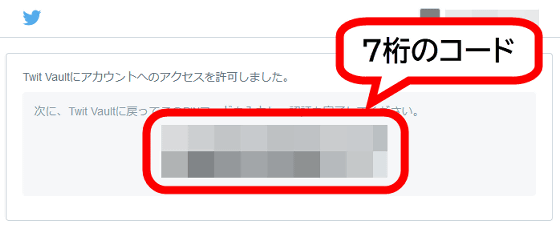 Return to the TwitVault screen, enter the 7-digit code and click 'Next'.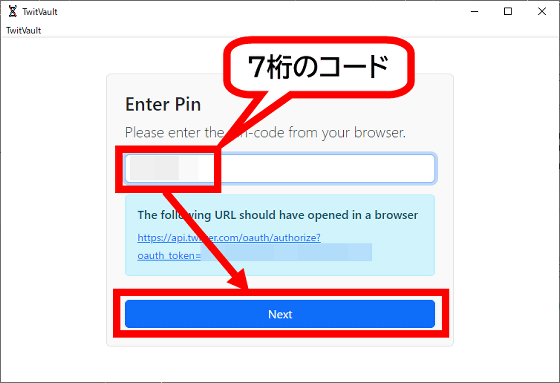 Click 'Next'.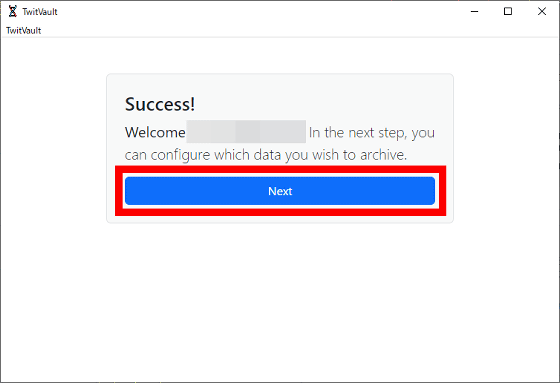 Then, the selection screen of the data to be downloaded is displayed. In order from the top, 'My posts', 'Reactions to my posts', 'Posts to myself', 'Like tweets', 'User profile', 'Follower list', 'Follow list', 'List', 'Images attached to tweets' Movie' can be selected whether to download. However, you can only download up to 3200 of your own tweets in order of newest. After selecting the data to download, click 'Start the Import!'.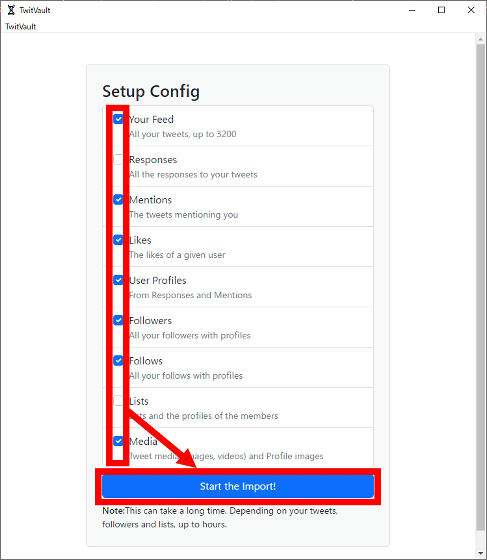 After waiting for a while, a list of your tweets will be displayed. The image was displayed without any problem.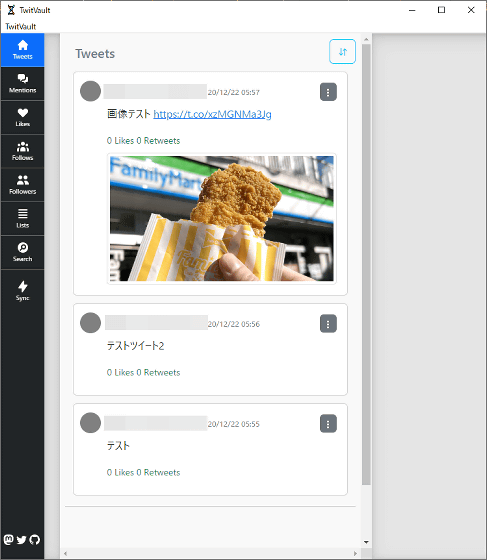 You can switch the data to be displayed by clicking the menu on the left side of the screen. For example, click 'Likes' to view a list of tweets that you liked.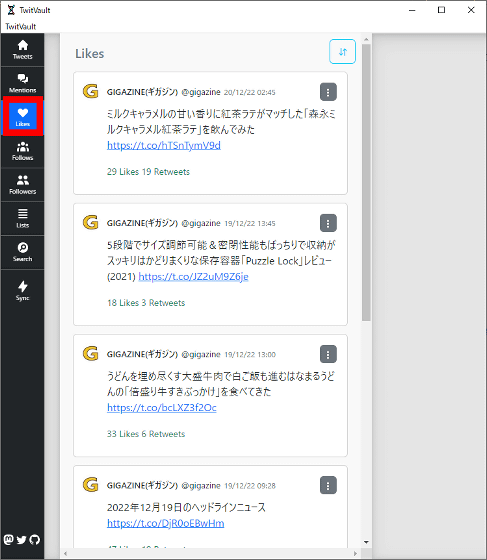 The downloaded data is saved in 'C:\Users\ user name \AppData\Roaming\StyleMac\TwitVault\config\archive', and you can check images and movies individually from here. I tested it on an account with 650 tweets and the total file size was 201MB. However, since tweet text etc. are saved in JSON format, it is safe to start TwitVault and check it, unless it is for the purpose of moving image files and movie files at once.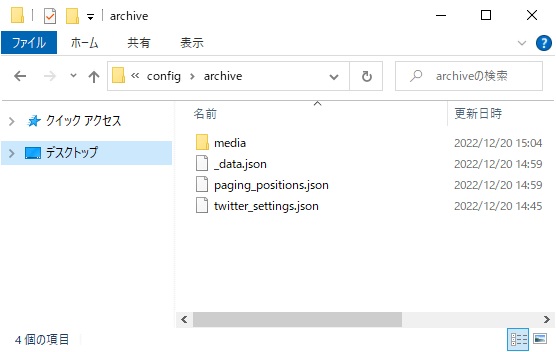 TwitVault is developed as open source, and the source is published at the following link.

GitHub - terhechte/twitvault: Easily Archive and Search Your Twitter Data with our Syncable Desktop App
https://github.com/terhechte/twitvault