OpenAI is considering the release of the paid version of ChatGPT ChatGPT ``ChatGPT Professional'', and it is possible to register an invitation waiting list that can be used experimentally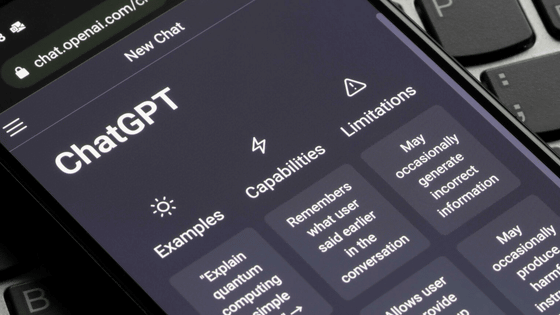 Interactive chat AI '
ChatGPT
' is capable of answering with high precision enough
to pass the free-text question of the college-level exam,
creating
unknown languages
and teaching
women how to persuade.
are also used. Such ChatGPT is available for free at the time of article creation, but it is clear that OpenAI, the developer, is considering monetization with ChatGPT by preparing a professional version.
OpenAI begins piloting ChatGPT Professional, a premium version of its viral chatbot | TechCrunch
https://techcrunch.com/2023/01/11/openai-begins-piloting-chatgpt-professional-a-premium-version-of-its-viral-chatbot/
OpenAI explores monetization options for ChatGPT
https://mobilesyrup.com/2023/01/11/openai-explores-chatgpt-monetization-options/
OpenAI opens waitlist for 'experimental' paid version of ChatGPT with faster answers - The Verge
https://www.theverge.com/2023/1/11/23549821/openai-professional-experimental-paid-version-waitlist-monetization
On ChatGPT's official Discord server
, OpenAI, the developer, said, 'We are considering ways to monetize ChatGPT' as one way to 'ensure the long-term viability of (ChatGPT)'. I revealed.
The paid version of ChatGPT seems to be called 'ChatGPT Professional', and an
invitation waiting list
has already been created on the official Discord server. It seems that this invitation waiting list contains questions about the pricing of the paid version, ``How much is the monthly fee before you can consider purchasing ChatGPT?''
ChatGPT Professional's waiting list also describes what benefits the paid version will have. According to this, there will be no 'blackouts' (periods of unavailability), there will be no slowdowns to stabilize the behavior of the entire service, and the limits on the number of characters and responses in interactions with ChatGPT will be fairly loose. 'It will be at least double the daily limit of the regular version,' explains OpenAI.



People who are invited to ChatGPT Professional early may be selected as test users of the service, but it seems that many users will not be selected because it is still in the experimental stage at the time of writing the article.

In addition, Greg Brockman, co-founder and president of OpenAI, has announced that he is planning ChatGPT Professional on his Twitter. Additionally, we're sharing the link so that even those who aren't on the official Discord server can join the invite list.

Working on a professional version of ChatGPT; will offer higher limits & faster performance. If interested, please join our waitlist here: https://t.co/Eh87OViRie

— Greg Brockman (@gdb) January 11, 2023


ChatGPT has more than 1 million users as of early December 2022, but Sam Altman, co-founder and CEO of OpenAI, said that ChatGPT's operating costs are 'eye-popping (high). )" commented. Since ChatGPT is hosted on Azure, Microsoft's cloud service, it is estimated that the cost per interaction will be about a few cents (several yen).

Altman also tweeted, ``ChatGPT has an incredible number of limitations, but some of the features are so good that users misunderstand that ChatGPT is a great AI. It is a mistake to rely on ChatGPT for any important project now.The current ChatGPT is only a preview version, and there is a lot to be done about robustness and truthfulness. claims that ChatGPT has limitations.

ChatGPT is incredibly limited, but good enough at some things to create a misleading impression of greatness.

it's a mistake to be relying on it for anything important right now. it's a preview of progress; we have lots of work to do on robustness and truthfulness.

— Sam Altman (@sama) December 11, 2022


In addition, since OpenAI is reportedly negotiating a tender offer for about 40 billion yen , Microsoft will invest 10 billion dollars (about 1.3 trillion yen) in OpenAI in order to integrate ChatGPT into Bing and Office. They are also reportedly considering it.

Microsoft is considering investing $ 10 billion to integrate OpenAI's ChatGPT into Bing and Office - GIGAZINE