Third-party Twitter client application 'Tweetbot' may be intentionally locked out of Twitter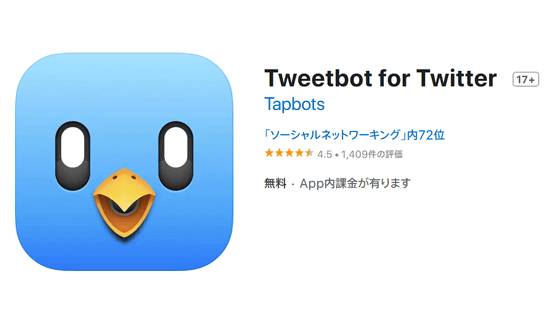 On January 13, 2023, a
third-party Twitter client app encountered an authentication error
. As a result, many Twitter client applications, including
Tweetbot
, were temporarily unavailable, but Tweetbot continues to deal with it by switching the API used to continue the service. However, there are also voices pointing out that Twitter may be intentionally trying to shut out Tweetbot.
Tweetbot is (mostly) working again - The Verge
https://www.theverge.com/2023/1/15/23556359/tweetbot-twitter-online-third-party-apps-outage
On January 13th, 2023, we started having issues logging into Twitter with third-party Twitter client apps. Tapbots, the developer of Tweetbot, tweeted, ``I contacted Twitter about the failure, but there was no reply. I have not.
Tweetbot and other clients are experiencing problems logging in to Twitter. We've reached out to Twitter for more details, but haven't heard back.

We're hoping this is just a temporary glitch and will let you know more as soon as we know more.

— Tweetbot by Tapbots (@tweetbot) January 13, 2023


Until then, it was impossible to sign in to the Twitter account, but on January 16th, it was reported that it became possible to sign in to the Twitter account and view tweets with Tweetbot. However, the message 'Data limit reached' is displayed on the screen, and it is still impossible to tweet.

And it's back! I can connect in @tweetbot !!!

Of course, I tried to send that in TweetBot only to get "Twitter Data Limit Reached.

???? https://t.co/zdAK03c1jJ pic.twitter.com/R9Wj2AUL9V

— Steve Brazill (@stevebrazill) January 15, 2023


Tweetbot co-creator Paul Haddad said on Mastodon, 'And now [Tweetbot] is dead, along with an old unused API key. It proves that others were specifically targeted. If it hadn't been for a piece of communication, we wouldn't have exchanged keys in the first place,' Twitter said. It suggests that changes were made to prevent third-party client apps such as Tweetbot from working.



Haddad commented to the overseas media The Verge, ``I decided to start using a new API key to see if the problem would be resolved,'' and changed the API key to be used. He said that he was able to sign in to his account with Tweetbot and managed to avoid a complete service outage. However, this new API key was also frozen at the time of article creation, and Tweetbot cannot be used again.

According to iOS application developer Mysk, it seems that Tweetbot's operation was temporarily revived by changing the API key used by Tweetbot. However, the new API limits third-party client apps to ``only share 300 tweets per 15 minutes,'' so you can't share unlimited tweets like you used to. That's right. Mysk said, 'This proves that Twitter intentionally shut out Tweetbot. The developer created a new Twitter API app and got new credentials. The app is back, not because Twitter's API is broken, but because Twitter has forced third-party client app developers to resort to such workarounds.' I am tweeting.

This is a proof that #Twitter has deliberately suspended @tweetbot . The developers just created a new Twitter API app and obtained new credentials. workarounds, it's doomed https://t.co/Ra4CtJo40I

— Mysk ???????????????? (@mysk_co) January 15, 2023


Regarding the series of disturbances, overseas media The Information reported that Twitter may have intentionally disabled a third-party client application, and Twitter's senior software engineer said, ``The outage is intentional.'' We get the messages we're talking about from our own channels.

In addition, developer Haddad posted on Mastodon, 'Although it is smaller, we will move to a better environment,' suggesting a shift to services other than Twitter, and Tapbots, the developer of Tweetbot, is 1 We just announced on the 14th of the month that we are working on a Mastodon client called Ivory.

We still don't have any news from Twitter.

We are honored that so many of you have chosen us as the way to browse Twitter for the past 12+ years and hope it can continue.

In the observing, we have been working on something else… https://t.co/Pf48gPa7Ll pic.twitter.com/gR6OK5mlup

—Tapbots (@tapbots) January 13, 2023