Interview with Kotono Watanabe, the director of the anime movie 'Kin no Kuni Mizu no Kuni', how did the director with a strong love for the original animate the popular work?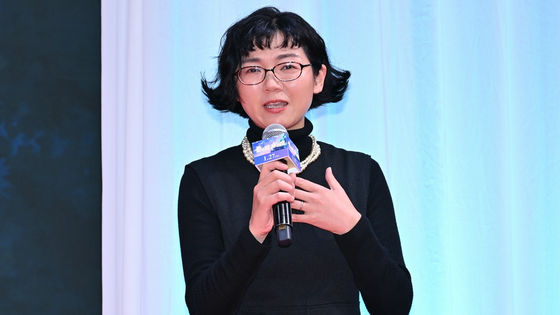 The movie 'Kin no Kuni Mizu no Kuni', based on the manga by Nao Iwamoto, who won Takarajimasha's 'Kono manga is amazing!' 2017 female version first place, will be released on January 27, 2023. Director Kotono Watanabe, who worked on this work, was a fan of Iwamoto's work. I've heard about the details.

Movie "Kin no Kuni Mizu no Kuni" Official | Released on Friday, January 27, 2023

https://wwws.warnerbros.co.jp/kinnokuni-mizunokuni-movie/
Movie ``Golden Country Water Country'' Special Guide Released on Friday, January 27, 2023-YouTube
There are some stories that go into the content of the work, so if you want to shut out all the information and face the movie, please read it after watching.
GIGAZINE (hereinafter G):
I would like to hear from you about how you got involved in the project. In an interview with the director published in Mantan Web in December 2022, '
I loved the original more than anyone else, and since it was a scene where creators who love the original gathered, I felt that it would be okay, so I started production. I was able to do it,
' I read. The original series will be serialized from 2014 to 2016, and the animation will be announced in 2022.
Director Watanabe Kono (hereinafter referred to as Watanabe):
The original is 2017
'This manga is amazing! 2017 'Onna Edition' I read it when it won first place
, but at that time I didn't know anything about the anime adaptation, and just read it as a hobby. In fact, I think it was a little later that the anime project came to Madhouse. When I asked the planning sales person, he said, 'It was a few years ago.' So, the company thought about who to direct and chose me. It's been about four or five years.
G:
The director didn't raise his hand saying 'I like this original!'
Watanabe:
I was quite blind, and there was 'Kin no Kuni Mizu no Kuni' on the producer's seat, so I asked, 'What happened to this manga?' At that time, the story hadn't progressed yet, so it was a vague answer, but I said, 'I really like this manga, don't you think?' . I never thought I would be able to become a director.
G:
The appeal was successful (laughs)
Watanabe:
I really thought it was something to appeal to (laughs)
G:
Did you pick up the original as a result of winning the award 'This manga is amazing!'
Watanabe:
Originally I was reading
Nao Iwamoto
's '
Machi de Rumored Tengu no Ko
', but I was more of a comics type, so 'Kin no Kuni Mizu no Kuni' was just the time I got the award and it was on sale at the bookstore. I bought it there and read it because it became like that.
G:
The original is a comic book, a total of 8 episodes and a short story, and when you read it, the story will develop with great momentum. When making an animated movie, I thought about various things, such as ``It seems like it's just the right volume because it's one book, but maybe that's why it's difficult to add and subtract ...?'' Was it?
Gold Country Water Country (Flower Comics Alpha Special) | Nao Iwamoto | Books |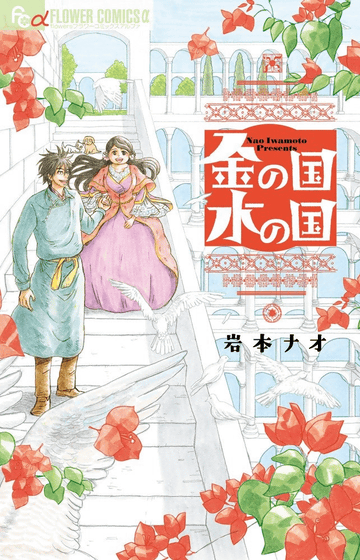 Watanabe:
There are quite a few foreshadowings, there are a lot of characters, and when it comes to movies, the world view expands with color, and there is a sense of volume. I thought it would take about an extra 30 minutes.

G:
2 hours over.

Watanabe:
In particular, it's a spectacle of a foreign country, and it's also a relatively interactive drama, so I think it's going to take some time. However, there is an iron rule that if it is an anime movie, it should be kept in 120 minutes.

G:
It ended up being 120 minutes, but did you cut it down to 120 minutes?

Watanabe:
I was convinced that the original work would definitely go over, so I consulted with
Mr. Mitsuyuki Masuhara
, who joined as a supervisor. This work has a lot of foreshadowing, and if it is a manga, you can understand 'Is that so?'
G:
surely.
Watanabe:
I was careful not to blur the basic parts of the story that the original story wanted to express, but also to make it easy to understand.
G:
Regarding the foundation, there was a question in the official Q&A, but where was the first part that the director decided not to move as the foundation of the work this time?
Movie ' Kin no Kuni Mizu no Kuni '
Introduce the points that the staff was too particular about as #Kinokuni water country which is too fine ☾

????Director #Kotono Watanabe

????What are the difficulties and things to be aware of when making an original work into a movie or animation?

I'm trying to make sure that you can get a sense of satisfaction without blurring the basics of the original work. pic.twitter.com/YHd89o5kb5

— Movie "Kin no Kuni Mizu no Kuni" Official (@kinmizu_movie) December 22, 2022


Watanabe:
When I read it, I had the feeling that it was a very special work. Rather than a work with a big event, the final euphoria at the end of accumulating various things, the euphoria at the point of gathering is characteristic, and that euphoria lasts for a long time. I thought, so when I made it into a movie, I had to make sure that I could get the same feeling of euphoria. And the heart of the story is the thoughts of Naranbayar and Sala. Of course, the same goes for romantic feelings, but two ordinary people play a false couple because they want to protect their peaceful days and the people they care about, because they don't want to start a war. Because there is something like ``I want a little flashy scene, so let's start a war'', that kind of thing is absolutely not done.



G:
I think that people who read the original will be worried about various parts of how this is visualized. When I saw the preview this time, I thought, ``Since the story was originally packed, it was made into an animation quite faithfully.'' That kind of arrangement was added to !" I was surprised at the part I thought.

Watanabe:
Thank you very much.

G:
At the beginning of the work, I was careless about adding a picture story part that depicts the beginning of the conflict between the two countries because it was not the main part of the story.

Watanabe:
(Laughs) I thought about what would be best to express the introduction with an exotic feeling, and I thought about the design source of the arrangement, and it would be better to express it in that way. I made it because I wondered if I could enter the world of 'country'. When I read the impressions of the original work, there was a surprisingly misunderstood point: ``Originally, Country A (the country of gold) and Country B (the country of water) were thinking of making a couple, but they didn't intend to. It became a combination of Sala and Naranbayar.' ``I was trying to make two couples, but for some reason, Sala and Naranbayar decided to play a fake couple as one of them.'' It's a bit complicated, so it's conveyed by expressing it as a picture I thought it might be, and it feels like I was inflated.

G:
Oh! sure sure. That's why I made them clearly visible as Sala and Naranbayar even in their silhouettes.

Watanabe:
it is. I made it like that.

G:
It may be common in terms of ease of communication, but this time, 'Country A' and 'Country B' in the original became 'Al Hamito' and 'Baikali'. Was it decided to name this early on?

Watanabe:
At the stage of the scenario, I thought that 'Country A' and 'Country B' would still work, but as we progressed, the audience would see the alphabet A and B all the time. That's right, so I asked Mr. Iwamoto to decide on a country name with A and B as the initials.

G:
I heard that the original author, Nao Iwamoto, was quite cooperative in the meeting, but in addition to deciding on the country name, did you have any requests such as ``I want this place to be like this''?

Watanabe:
In one place, towards the end, there was a part where I regretted it, so please cut this line, but for this work, I said, ``I'll leave it to you.'' , They gave me the name of the country, and they lent me all the materials that I used when I drew the original work.

G:
The original is basically a black-and-white manga, except for the cover art and the cover and back cover of the comic when it was serialized. I wondered if I was able to bring out Baikali-ness, but I think Mr. Iwamoto's materials were helpful in that respect.

Watanabe:
I agree. As for the clothes of the characters, the clothes of the Ottoman Empire were used as a reference, so while looking at the clothes worn in the original work and the photos that would have been used as a reference in actually making the clothes, I also made character designs. Also, for Al Hamid, I heard that he was referring to the Ottoman Empire, so I borrowed the materials, so I tried to make it look good in the anime while having common parts. I created art for anime. If you are a reader of 'Kin no Kuni Mizu no Kuni', I think you will feel like the feeling and image you had when you read the manga has been visualized in real life.

'Land of Gold' Alhamit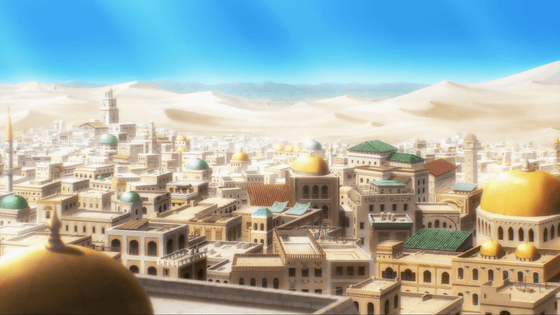 'Land of Water' Baikali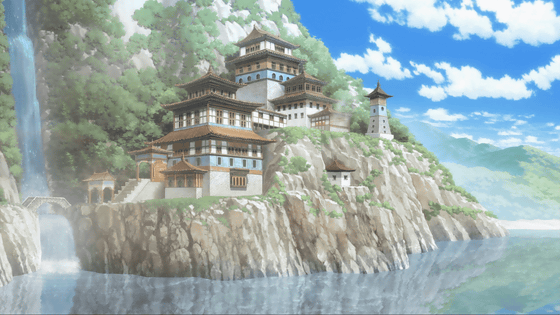 G:
I see, so that's how it was made. I was wondering what would happen to the golden condition of Al Hamid, which is exactly the 'golden country', so I thought, 'This is how it turned out!'

Watanabe:
With the cooperation of the art company, we had a lot of gold roofs to make it look like 'golden country', and we had the photographer make it shine brightly. (Laughs) Because Naranbayar said, 'It's a land of gold,' it's connected to the rest of the story, and it's also the title recovery line, so I was particular about making it.

G:
The director appears in the ' Chihayafuru storyboard guide ' posted on the Madhouse official website.

Watanabe:
It's embarrassing.

G:
After working on ' Chihayafuru ', he said that he did not have direct experience of working on ' BTOOOM! ' because the style of the work was different, but he made use of his reflections on the storyboards. In the case of this work, did you have any difficulties with the storyboards?

Watanabe:
In this work, the directors who have been involved in the work so far have been involved in directing and supervisoring, and they have cooperated. Of course, the direction of the work and the landing point are decided by the director himself, but once that was decided, I was able to ask those people for the storyboards, so I was able to create a very fulfilling picture. I have a feeling that it might be tan. There are some differences between TV anime-like drawing and movie-like drawing, and although it is the same anime work, I tried to keep that in mind this time.

G:
Hmmm.

Watanabe:
It's difficult to express how to express it, but there are also differences in the position of the viewpoint when the audience sees it, so I'm a little conscious of things like making the layout fit well when I see it in a movie theater. doing. This is especially true at the beginning of the work. When the story comes, it gets into it, so you don't have to worry about it so much, but at the beginning I felt like I was trying to take a movie-like layout. For drawing pictures, it's especially powerful to make it look like it's expanding like a movie.

G:
I did my best to take notes while watching the end credits, but the storyboards were directed by Mitsuyuki Masuhara, who is also a supervisor, and Morio Asaka, Yoshiaki Kawajiri, Kenichi Shimizu, and Shingo Okano. Directed by the director, Mr. Masuhara, Mr. Asaka, and Mr. Kunio Katsuki. Already, there were a lot of amazing names lined up, and I was convinced in various ways, but is this something that the director calls out to? Or is it something that the company says, 'Let's go with this member'?

Watanabe:
I think it varies depending on the work, but in this case, I was still a small child, so when the director offered me, I told him that it might be a little difficult physically. I was There are things like picking them up from nursery school, so it's a normal human life to be in the morning and out in the evening, and in the anime industry, it's a bit unusual. .

G:
So that's it.

Watanabe:
So, I think that the company cooperated a lot, or the producer took care of it. Due to the coronavirus, there were some critical situations in production, or rather in terms of schedule, but it was great that the big directors who had worked with me until now followed up on me. think.

G:
Oh, I'm also being affected by Corona...

Watanabe:
The order itself was before COVID-19, but it was difficult because the COVID-19 pandemic had already started around the time the site started, and nursery schools and elementary schools were closed. However, because of Corona, everyone said, 'I have to do something.' I think there was a sense of crisis that if we didn't do something about it as a company, we wouldn't be able to overcome it. So, as a staff member, our mental cohesiveness increased, but with the coronavirus, we couldn't see the future, so it was difficult to read the schedule.

G:
So that's it. When it's completed, it's like, 'You've made something amazing, how about it!'

Watanabe:
It's all good if the end is good, but I feel like it was hard after all (laughs)

G:
Does the difficulty of storyboard work change greatly between a work with an original work like this work and a work without an original work?

Watanabe:
I think it's completely different as a work. I haven't worked on many original works, but... works with original works, especially Iwamoto-sensei, are characterized by acrobatic camera positions, so I would like to show it in the same composition as animation. There is a part where I think about how to assemble the image toward that, such as 'I want to show this picture as it is'. If it's an original, the director has the scenario and the core part, so I think there are many patterns that can't be established unless the entire base of the work is created.

G:
It's true that you've been in charge of a lot of works that have original works.

Watanabe:
There is a part of me that thinks that Madhouse itself is a company that cherishes the original work and turns it into an anime. Maybe that's why I often get involved in works that have original works. I often work with Asaka-san's works and Atsuko Ishizuka's works, but Asaka-san's one-of-a-kind directing skills often work on shoujo manga. I really like manga, and I really like Asaka-san's work, so if the timing is right, I can get involved as a director, so I think I'm lucky.

G:
I heard that you wanted to work in the industry because you love manga, but at that point, did you mean that you wanted to go to Madhouse because you were doing well with original works?

Watanabe:
I used to love manga, but actually, I never thought about entering the anime industry.

G:
Oh, is that so?

Watanabe:
I was thinking about something in the entertainment industry. When I was in college, there was a time when things like self-produced animation were popular. (smile)

G:
(smile)

Watanabe:
I got tenosynovitis from drawing too much, so I thought it would be good to work in the direction of anime planning, so I accepted Bandai Visual and a game company, but when I showed my portfolio, 'You are the animation production side. You should go to I usually go to the final interview, but there I'm told by the president and other senior people, so I thought, ``Since the person in this position says so, it must be so.'' When I looked up companies that I could get a job at at that time, they were Sunrise and Madhouse.

G:
Oh.

Watanabe:
Sunrise was an exam, and there was a test of driving proficiency. Test your driving skills. But I was a paper driver (laughs)

G:
Oh (laughs)

Watanabe:
So, in the animation industry, only Madhouse has been accepted.

G:
Somehow, it even feels like the relationship was solidly connected from the beginning.

Watanabe:
It's like a coincidence called a coincidence.

G:
The storyboard was partially released on the official Twitter of the work, and there was a picture of Avan, who is in charge of the director. I heard that the director was from the production line, but the picture was 'a beautiful storyboard like a manga', which was mentioned in the storyboard guide earlier, so he used to produce animation himself. I thought it would be worth talking about.

☾ #The Land of Too Fine Gold Water ✩

????Director #Kotono Watanabe

????I think it would be great if after watching the charm of this work that I want you to feel most on the screen, you will notice the various love around you.
It is a highly satisfying work that makes you feel gentle. #Golden Country Water Countrypic.twitter.com/ozroPhQjvZ

— Movie "Kin no Kuni Mizu no Kuni" Official (@kinmizu_movie) December 23, 2022


Watanabe:
No, no, in Madhouse, he is in the category of 'a guy who is not good at drawing'. People always tell me to do better.

G:
e!?

Watanabe:
Our company has a high level of demand for storyboards, so I'm told that I'm not good enough, so I think I'll be more diligent every time.

G:
No no no no...

Watanabe:
By the way, Madhouse has a route from production manager to directing and directing, but I made a mistake when I was looking for a job and submitted a resume for the video department. The person in charge of human resources asked me, 'You want to direct in production, right?' I was about to enter from the video. That might have been an ant, but I'm not that good at drawing, so if I started from the video, I might not have become a director.

G:
In this work, Kento Kaku plays the role of Naranbayar, and Minami Hamabe plays the role of Sala. is solidified. When I saw the line-up in the end credits and thought, 'Wow, that's amazing,' Lukman and Odonchimeg were also credited. Both are played by Anna Mugiho. How did you decide on this kind of casting?

Watanabe:
First of all, I think that there are anime movies in which various people, including actors, appear, and there are movies that ask the voice actors for everything, but regarding this work, Nittele said that if anything, the cast including the actors There was talk that it might be a work to think about. In terms of this, Naranbayar and Sara have a lower social status compared to other characters, and are more familiar and common characters, so I want to separate them a little. I thought that it would be more interesting to think about the actors and the stage actors, rather than solidifying them. When I made a request, I received the offer.

G:
Did the director's first request go through, amazing?

Watanabe:
yes. Regarding the other cast members, I consulted with Mr. Shimizu, the sound director, and the producers. The work itself is quite solid, and ``If you're going to guess the actors, you can also include people with stage experience and people who are active in the center of the stage in addition to the voice actors.'' So, it was a story that it could be really luxurious, so if that's the case. I'm a bit of an otaku, so when I see Ginga Banjo's name, I'm happy and say 'I did it!' (laughs)

G:
(smile)

Watanabe:
Of course, I'm the director, so I don't show it to the public, but I'm always grinning in my heart. As for the dog Lukman and the cat Odonchimeg, while I wanted to show a human performance, I didn't want to feel like ``people are giving voices'', so when I was wondering what to do, Mr. Shimizu, the sound director said, There is a one and only person,' said Mr. Mugiho. It was perfect. Everyone else is perfect, but Mr. Mugiho is a real dog and cat, but he is acting properly. It's a really great coincidence ... I just feel like thank you.

G:
This really surprised me. It was so natural that I thought I was sampling animal voices...

G:
Finally, in this work, which is basically well-arranged and faithful to the original work, the 'bridge' scene in the final stage is arranged in a big way. When I saw the preview, I couldn't help but let out my breath. As a director, did you envision that kind of arrangement when you received the film adaptation? Or is it something that suddenly came up with an idea while making it?

Watanabe:
There was also a request for a flashy scene in the second half, and Mr. Masuhara, the supervisor, gave me a proposal saying, 'If that's the case, how about doing this?' It's good because it's more spectacular than the original, but in order to make it easier for the viewer to understand, Naranbayar's monologue is added. The ``bridge'' itself was something that made me think ``this is difficult to proceed'' in the original, but in the anime it is ``this is an option I would rather choose'', making Naranbayar's choice stand out. I think it is. There is also such an aspect, and it will be a video expression in a form that emphasizes it more.

G:
So that's it. There was a sense of convincing that 'If it's a gold country, you can do something like that', and I thought that the arrangement itself was skillful.

Watanabe:
Thank you very much. I'm glad I was able to create just the right kind of mechanical feeling.

G:
Thank you very much for speaking with us today.

The movie 'Kin no Kuni Mizu no Kuni' will be released on Friday, January 27, 2023.

Movie `` Gold Country Water Country '' This notice released on Friday, January 27, 2023-YouTube

©岩本ナオ/小学館 ©2023「金の国 水の国」製作委員会