Hackers are selling 'League of Legends' source code stolen from Riot Games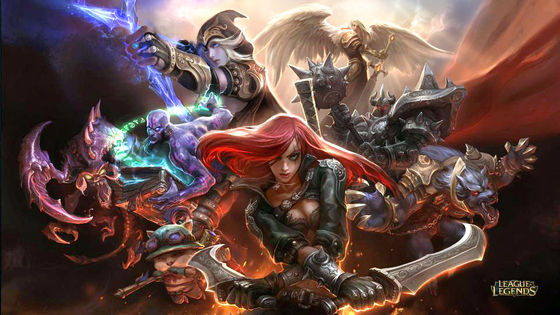 by
downloadtai 1
It turned out that the source code of the popular game `` League of Legends '' stolen from the American game company Riot Games is being auctioned on the dark web.
Hackers auction alleged source code for League of Legends
https://www.bleepingcomputer.com/news/security/hackers-auction-alleged-source-code-for-league-of-legends/
Riot Games announced on January 21, 2023 that its development environment was hacked and the source code of games such as `` League of Legends '' and the anti-cheat platform `` Packman '' leaked. Riot Games has requested a ransom of $ 10 million (about 1.3 billion yen) from attackers, but refuses to pay.
The source code of games and anti-cheat tools is stolen from ``Riot Games'', the developer of VALORANT and LoL, the attacker demands 1.3 billion yen but refuses to pay-GIGAZINE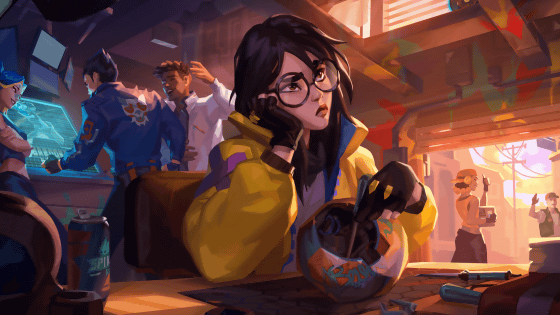 After being turned down by Riot Games, the attackers put the stolen source code from Riot Games up for sale. According to the news site BleepingComputer, the attacker is auctioning the source code claiming to be from 'League of Legends' and 'Packman' for at least $ 1 million (about 130 million yen). We also offer to sell 'Packman' alone for $ 500,000 (about 65 million yen).
The forum post contains a link to a 1000-page PDF file that claims to be a directory listing of 72.4GB of source code. BleepingComputer, who actually reviewed this document, concluded that it 'certainly appears to be a source code listing for software related to Riot Games.'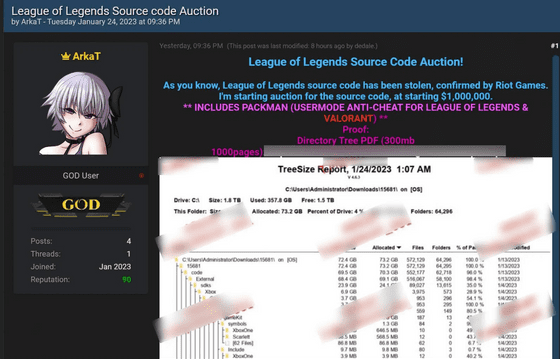 by Bleeping Computer

The attackers also said they shared some of the stolen source code with YouTuber
Ryscu
, who makes videos related to League of Legends. Ryscu shares screenshots of the source code in this cyberattack-themed video.
League of Legends is being sold for $1,000,000-YouTube
A reference to the source code can be seen around
44 seconds after the video starts playing
.


However, BleepingComputer was unable to verify if this source code is genuine. BleepingComputer also asked Riot Games about the sale of the source code, but no response was received at the time of writing.

The `` League of Legends '', whose source code was stolen this time, is said to be the game with the largest number of players in the world, so it is unknown how much impact the hacking Riot Games received this time. Hmm.

The biggest concern is the creation of cheat tools that target the game and its players. Leaked source code can also create malware that allows remote code execution on the device of the person playing the game.

In this regard, BleepingComputer said, ``Time will tell if the source code allegedly stolen from Riot Games is really worth $1 million to cheat tool developers and other attackers. I don't understand,' he commented.