The leaked Pixel 8 Pro has a mysterious new sensor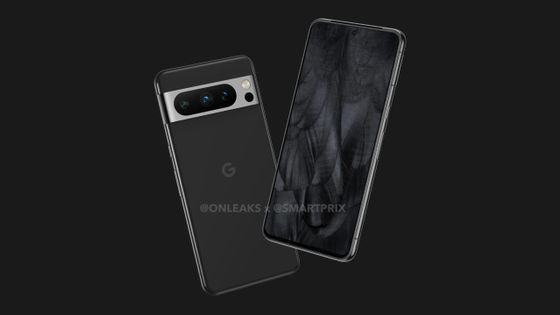 A leaked image of Google's smartphone ' Pixel 8 Pro ', which is expected to appear at the developer conference '
I/O 2023
' to be held on May 11, 2023. The Pixel 8 Pro has a design that is quite similar to the previous model '
Pixel 7 Pro
', but you can see some clearly changed parts.
[Exclusive] Pixel 8 Pro First Look: Might be showcased at Google I/O 2023 in May - Smartprix
https://www.smartprix.com/bytes/exclusive-pixel-8-pro-first-look/
This is the 360 degree view of the leaked Pixel 8 Pro.
The Pixel 8 Pro will have a slightly rounded corner design and will have a flat panel instead of a curved surface.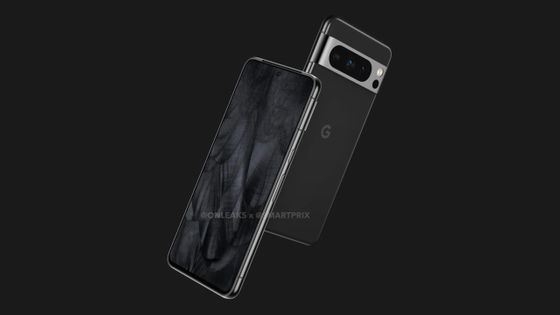 The camera module also saw a major change, with three lenses integrated into one oval area. A round mysterious sensor is placed under the flashlight, but its specific function is still unknown. It could be a macro lens sensor, a depth sensor, or even a completely new sensor technology.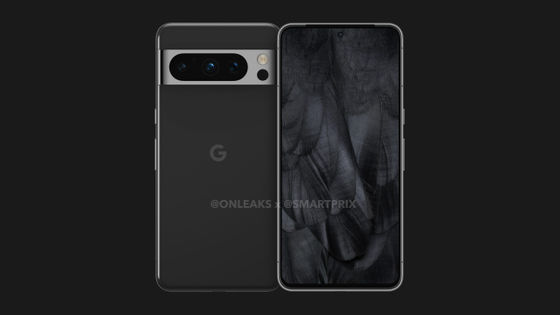 The USB Type-C port and speaker are placed on the bottom as before, leaving the top open. The power and volume buttons are on the far right, with the Google logo on the back.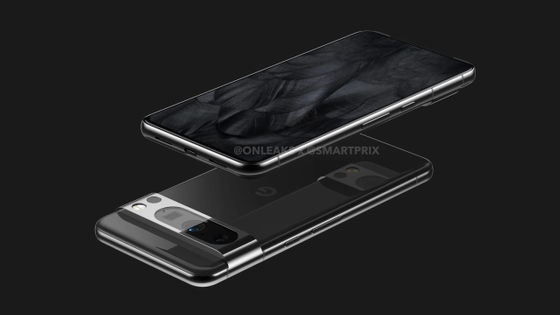 According to leaked
information
,
the Pixel 8
and
Pixel 8 Pro
have been codenamed 'shiba' and 'husky' respectively, and are expected to launch in late 2023.
The Pixel 8 Pro has a display of about 6.52 inches, the body size is 162.6 mm x 76.5 mm x 8.7 mm, and it will be about 12 mm thick including the camera bump. The display size of Pixel 7 Pro is 6.7 inches and the dimensions are 162.9 mm x 76.6 mm x 8.9 mm.
The Pixel 8 series is expected to be based on the unannounced Samsung Exynos 2300 processor and equipped with the Google Tensor G3 chipset utilizing Samsung's 3nm node technology. Since the existing Google Tensor G2 chipset is made with 5nm technology, the implementation of the Tensor G3 chipset could enhance both performance and efficiency.
According to Kuba Wojciechowski, who has leaked multiple Android-related information so far and has
announced
that Google is developing a new lost item tracker like 'AirTag', the Pixel 8 series has '
staggered HDR
'. It is said that there is a possibility that a function called will be installed. Staggered HDR takes three exposures of short, medium, and long exposures at almost the same time, achieving the same effect as normal HDR, but reducing the time it takes to shoot and the blurring of images caused by blurring. is. The Pixel 7 series camera sensor 'Samsung GN1' does not support staggered HDR. An example of a sensor that supports staggered HDR is 'Samsung GN2', and it is thought that this sensor may be installed in the Pixel 8 series.
Google's 2023 flagship Pixels to include support for staggered HDR - ???? pic.twitter.com/ZfWtwQBykY

—Kuba Wojciechowski:3 (@Za_Raczke) December 19, 2022


Among the predictions made so far, in addition to the Pixel 8 series and the lost item tracker mentioned above, information on the ' Pixel 7a ', a low-priced version of the Pixel 7 series, has also popped out. In addition, Mr. Wojciechowski suggested that the 'Pro version' of the unannounced Google tablet 'Pixel Tablet' may also appear. Google I / O 2023, where such information will be revealed, is scheduled to be held from 2:00 am on Thursday, May 11, 2023, Japan time.

Google I/O 2023
https://io.google/2023/