Image generation AI 'Midjourney V5' appeared, super high image quality & 'hands' that AI is not good at are beautiful and almost impossible to distinguish from live action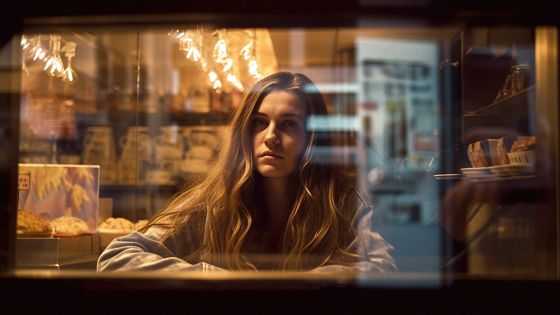 The development team of the image generation AI ``Midjourney'' has released the alpha version of ``Midjourney V5'' on March 16, 2023 (Thursday). 'Midjourney V5' not only enables super high-quality image generation, but also reports that it has solved the problem of 'hands' being unable to be accurately depicted, which was a problem of image generation AI. increase.


Starting today our community can test Midjourney V5. It has much higher image quality, more diverse outputs, wider stylistic range, support for seamless textures, wider aspect ratios, better image prompting, wider dynamic range and more.

—Midjourney (@midjourney) March 15, 2023


According to the development team, 'Midjourney V5' has 'improved response to prompts', 'doubled resolution of output images', 'can output detailed images even if the amount of text included in prompts is reduced', and '2:1 It is said that functional improvements such as 'corresponding to wide images exceeding' have been implemented.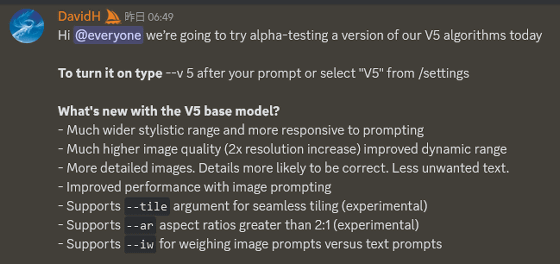 Many images generated using 'Midjourney V5' have already been published on the Internet.

Below is the `` image of two portraits taken from different angles side by side '' generated by `` Midjourney V5 ''. I can handle the complex task of 'depicting the same person's face from another angle' without any problems.

midjourney tip: v5 is impressive at doing split images with different angles of a person!

→ find the prompt in the ALT text of the images #synthography #midjourneyv5 pic.twitter.com/qaR7I2G27d

— Julie W. Design (@juliewdesign_) March 16, 2023


Image generation AI such as 'Midjourney' and 'Stable Diffusion' has a problem that 'it is difficult to accurately depict' hands '. However, in the image below generated by 'Midjourney V5', the hand is accurately depicted.

Just a heads-up - Midjourney's AI can now do hands correctly. Be extra critical of any political imagery (especially photography) you see online that is trying to incite a reaction.pic.twitter.com/ebEagrQAQq

—Del Walker (@TheCartelDel) March 16, 2023


Live-action images generated by 'Midjourney V5'. The human face and hands, and the blurring of the background are very natural.

the lighting and skin texture feels illegal in #midjourneyv5

the littlest amount of #photoshop is still in there, but nothing compared to what I usually do ???? #synthography aka #aiphotography , now is on the next level!

and MJ used to suck at window reflections; look at her now pic.twitter.com/ezr3ewyZgy

— Julie W. Design (@juliewdesign_) March 16, 2023


Images generated by entering the same prompts for 'Midjourney V4' (left) and 'Midjourney V5' (right). In comparison, 'Midjourney V5' has less unnatural clothes and eyes.

street style photo of a young woman, red gucci jacket, blue gucci shirt, wide shot, natural lighting, soho, shot on Agfa Vista 200, 4k --ar 16:9

v4 (left) v5 (right) pic.twitter.com/I80Bd0EEyP

— Nick St. Pierre (@nickfloats) March 15, 2023


As mentioned above, 'Midjourney V5' can generate very beautiful images, but there are also weaknesses. For example, the image below looks like a live action at first glance, but if you look closely, you can see unrealistic things such as ``the display on the left side of the image penetrates the glass case'' and ``the signboard has an unreadable mysterious language.'' I understand that there is also a part.

street style photo of a busy new york city bodega filled with people standing by the deli counter --ar 16:9 pic.twitter.com/V0PASDAdnv

— Nick St. Pierre (@nickfloats) March 15, 2023


'Midjourney V5' is in the test stage at the time of writing the article. The latest information related to Midjourney is published on the Discord server below.

Midjourney | Discord
https://discord.com/invite/midjourney