Vulnerability in Google Pixel's screenshot editing function, risk of personal information leakage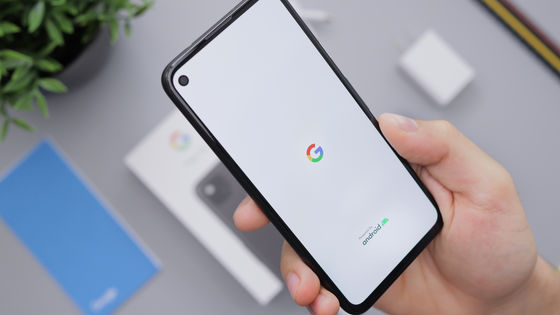 It has become clear that there is a vulnerability in the `` markup '' of the screenshot editing function that can be used in the Google genuine smartphone Pixel series, which can trace back the edited contents. Although this vulnerability has already been fixed in the latest update, there is still a risk of information leakage from screenshots edited before the update.

Pixel Markup vulnerability allows screenshots to be un-redacted

https://9to5google.com/2023/03/18/pixel-markup-screenshot-vulnerability/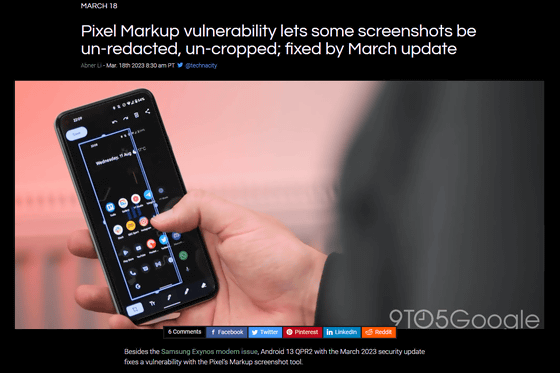 Google Pixel 'aCropalypse' exploit reverses edited parts of screenshots - The Verge
https://www.theverge.com/2023/3/19/23647120/google-pixel-acropalypse-exploit-cropped-screenshots
It was revealed in 2023 that there was a vulnerability in markup, a screenshot editing function that is standard in the Pixel series, that could restore the screenshot to its original, unedited state. It was early in the month. According to
Simon Aarons
, the engineer who discovered the vulnerability, the vulnerability is called 'aCropalypse' (
CVE-2023-21036
) and is fixed in Android 13 QPR, the latest update for Android.
Introducing acropalypse: a serious privacy vulnerability in the Google Pixel's inbuilt screenshot editing tool, Markup, enabling partial recovery of the original, unedited image data of a cropped and/or redacted screenshot. Huge thanks to @David3141593 for his help throughout! pic.twitter .com/BXNQomnHbr

—Simon Aarons (@ItsSimonTime) March 17, 2023


Markup was installed from Android 9 released in 2018. Pixel users can use markup to edit screenshots, add text, add highlights, and more.

For example, take a screenshot containing credit card information displayed in a wallet app, etc., edit it by blacking out the card number part to hide personal information, and share it on SNS. By exploiting the markup vulnerability, it is possible to restore this edited screenshot to its pre-edited state. If screenshots containing personal information are edited with markup and then shared, it is possible to restore the information by exploiting the vulnerability, which may lead to the leakage of personal information.

According to Aarons, who discovered aCropalypse, if you exploit the vulnerability and restore the edited screenshot with markup, about 20% of the image will be damaged, but the remaining 80% will be completely restored. It seems that you can.

Just realized the alt text got swallowed up when I updated the diagram in the draft tweet...

Image description: A three-panel diagram.

The first panel is titled 'Discord message' and depicts a Discord message sent by SimonTime to Retr0id, with an attached cropped photo of a… https://t.co/oFvzAj82NY

—Simon Aarons (@ItsSimonTime) March 18, 2023


However, Aarons points out that most social media will reprocess the uploaded images, making it difficult to restore the data at this time. For example, it seems that it will be difficult to restore data due to reprocessing of images on Twitter etc.

The following images are 'screenshots' (image 1) 'editing with markup' (image 2) 'screenshots after editing' (image 3) 'screenshots that failed to restore because they were reprocessed by Twitter, etc.' ( image 4).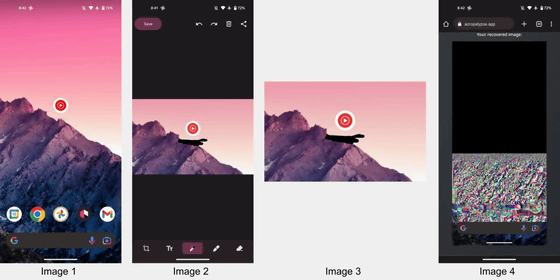 Discord will also reprocess images after January 17, 2023. However, Aarons warns that caution is required because screenshots uploaded before that have not been reprocessed and can be restored.

Aarons has published a web application that allows you to check whether you can actually restore screenshots edited with markup, so whether images you have uploaded in the past will be affected by aCropalypse If you want to check it out, try the app below.

acropalypse

https://acropalypse.app/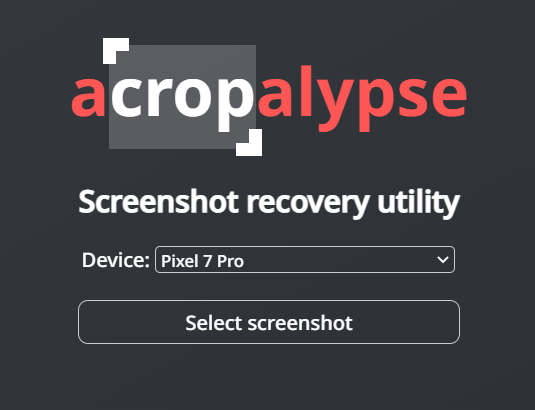 The reason you can restore an image edited with markup is that the edited version of the image is saved in the same location as the original file. When you edit the image and write a new file (lower row, green part), the original file is not deleted but remains at the end (lower row, blue part). The upper part of the image below is the original screenshot, and the lower part is the image edited with markup.