Theatrical version ``Gridman Universe'' opening day stage greeting, director Satoshi Amemiya is motivated to further the universe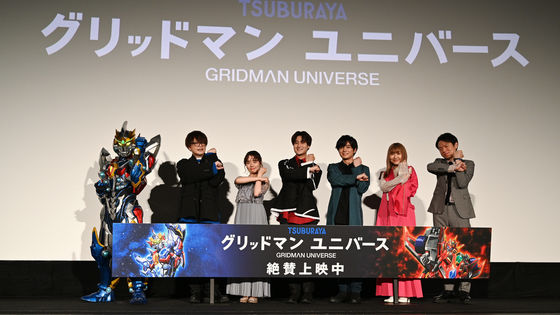 As a multiverse work that crosses the worlds of the animation '
SSSS.GRIDMAN
' and '
SSSS.DYNAZENON
', the movie version 'Gridman Universe' will be produced on March 24 ( The release date was set for Friday.
At the opening stage greeting held at TOHO Cinemas Hibiya, Mr. Hikaru Midorikawa, who plays Gridman, Mr. Yuya Hirose, who plays Yuta Hibiki, Mr. Yume Miyamoto, who plays Rikka Takarada, Mr. Junya Enoki, who plays Yomogi Asana, and Yume Minami. Shion Wakayama and director Satoshi Amemiya appeared as guests.
Movie version 'Gridman Universe' official website
https://ssss-movie.net/
Before the stage greeting started, the visuals of Gridman and Dynazenon were displayed on the screen.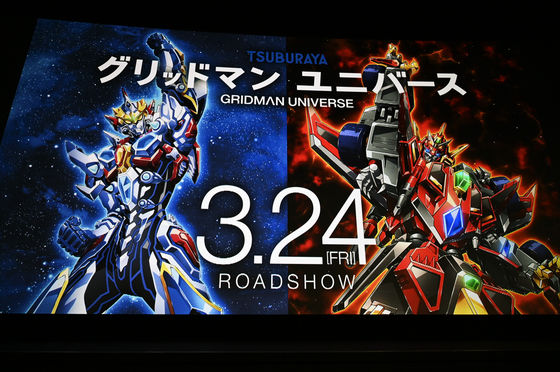 And then the stage greetings started at a fixed time... or so I thought, but Gridman appeared on the screen. 'Gridman Worry Counseling Room' was held to answer the worries that were sent in advance.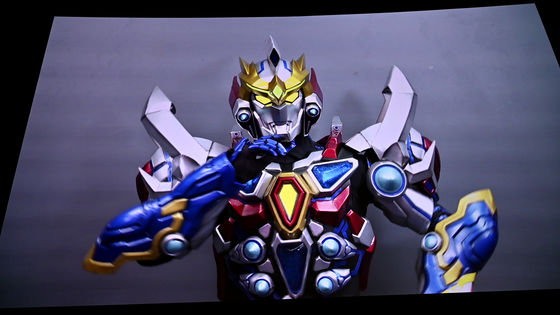 A state of Gridman who confronts various difficult problems.


Theatrical version 'Gridman Universe' public commemoration first day stage greeting 'Gridman Worry Consultation Room'-YouTube
After Gridman fulfilled his duties, the moderator,
Ken Washizaki
, appeared.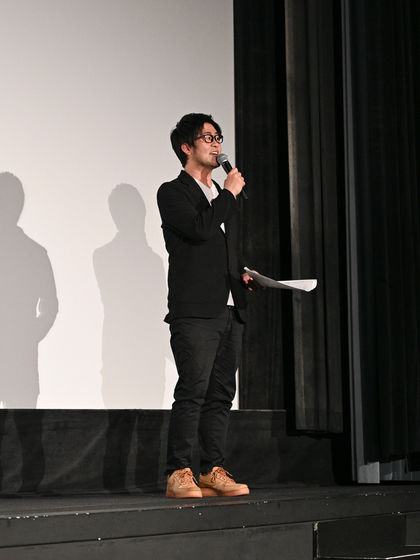 Then came the guests. From the left, Hikaru Midorikawa as Gridman, Yuya Hirose as Yuta Hibiki, Yume Miyamoto as Rikka Takarada, Junya Enoki as Homu Asana, Shion Wakayama as Yume Minami, and Satoshi Amamiya.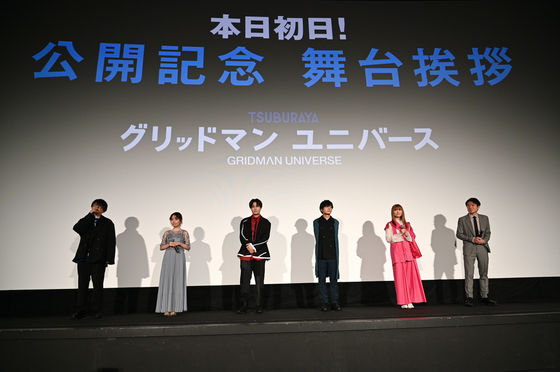 Originally, Director Amamiya thought that 'SSSS.GRIDMAN' was the only TV animation, but because of the great response, it led to 'SSSS.DYNAZENON' and the movie version 'Gridman Universe'. Regarding 'SSSS.DYNAZENON', he thought that it would be nice if he could join 'SSSS.GRIDMAN', but he did not think that it would be in the form of a movie version. When Mr. Washizaki asked about further ideas, he said, ``This time it's one of 'Gridman Universe','' and he was enthusiastic about the sequel.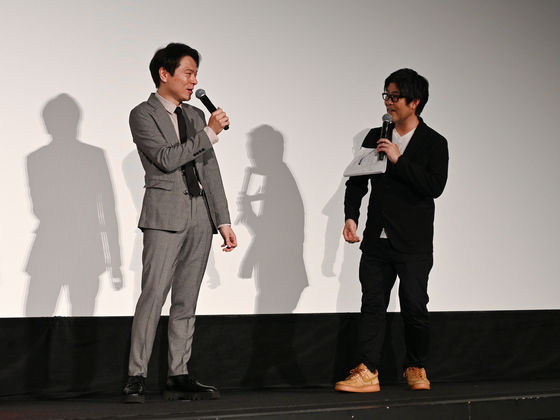 In the talk, there was also a mention of the difference in the 'love deviation score' between the Gridman team and the Dinazenon team.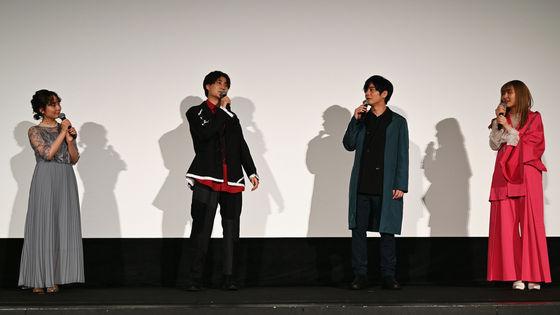 Mr. Midorikawa, who was listening to the situation, said that it would be nice for Gridman to have a presence like Grid Girl and Grid Lady, inviting laughter from the venue.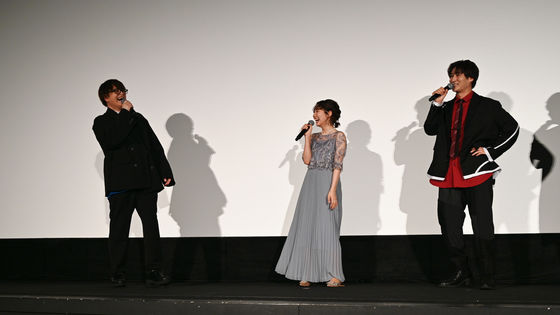 Mr. Midorikawa, who gave the closing remarks, wasn't feeling well during the recording, so normally we record from the front in the order of the script, but the climax part is recorded first. For this reason, it seems that he was worried when he returned from the recording site, but he was relieved when Director Amamiya said, 'Thank you for your hard work, it was great. Please leave the rest to me.' , said with his voice choking.


Theatrical version `` Gridman Universe '' public commemoration first day stage greeting Gridman role Midorikawa Hikaru closing greeting-YouTube
Gridman also joined the photo session, and everyone decided to pose for 'Access flash!'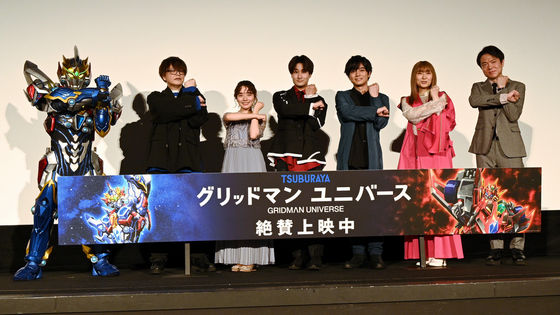 The movie version 'Gridman Universe' will be released nationwide from March 24, 2023 (Friday).

GRIDMAN UNIVERSE [GRIDMAN UNIVERSE] Main Notice | Released nationwide on Friday, March 24, 2023! -YouTube

©円谷プロ ©2023 TRIGGER・雨宮哲/「劇場版グリッドマンユニバース」製作委員会

◆ Movie version 'Gridman Universe' work information
·staff
Original: Gridman
Director: Akira Amemiya
Screenplay: Keiichi Hasegawa
Character design: Masaru Sakamoto
Sub-character design: Mayumi Nakamura
Gridman Design: Masayuki Goto (Tsuraya Pro)
Dynazenon Design: Tsuyoshi Nonaka
Monster design: Hiroshi Maruyama, Shinji Nishikawa
Heroic animation chief: Yuki Mutaguchi
Mechanical Sequence Director: Hajime Asano
Assistant Director: Yuichi Shimodaira
3DCG Production: Graphinica
3DCG Chief Director: Shinichi Miyakaze
3DCG Director: Koji Ichikawa
Art Director: Taketo Gonpei (Goofy)
Color design: Hitoki Takeda
Director of Photography: Katsunori Shirado (Graphinica)
Editing: Masato Yoshitake
Music: Shiro Sagisu
Music Production: Pony Canyon
Acoustic Director: Yuki Gofumi
Sound effects: Eiko Morikawa
Animation Producer: Shunsuke Shida
Animation production: TRIGGER
Distribution: Toho Imaging Division

·cast
Gridman: Hikaru Midorikawa
Yuta Hibiki: Yuya Hirose
Naumi Admiral: Soma Saito
Takara Rokka: Yume Miyamoto
Yomogi Hemp: Junya Enoki
Minami dream bud: Shion Wakayama
Yamanaka calendar: Yuichiro Umehara
Chise Asukagawa: Chika Anzai
Rex: Daiki Hamano
Caliber: Ryosuke Takahashi
Max: Katsuyuki Konishi
Borer: Aoi Yuki
Vit: Masaya Matsukaze
Rokka Mama: Mayumi Shintani
Namiko: Suzuko Mimori
Hassu: Akari Kito
Knight: Kenichi Suzumura
Second generation: Karin Takahashi