Animation 'SYNDUALITY Noir' will be released in July 2023, and this PV will be released, and games and hobbies will be developed as a large-scale SF project by the BANDAI NAMCO Group.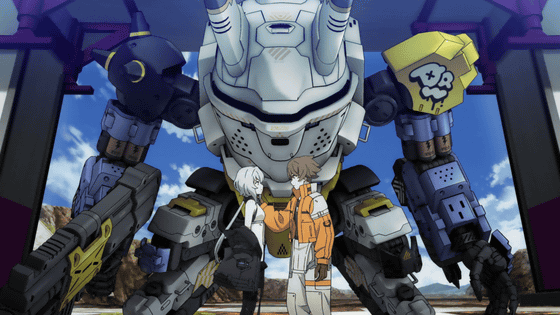 It is known that the animation of the large-scale SF project '
SYNDUALITY
' by the BANDAI NAMCO Group will be broadcast on TV Tokyo, BS Nippon Television and others from July 2023 under the title of '
SYNDUALITY Noir '.
I was. The first PV with character voices has also been released.
TV anime 'SYNDUALITY Noir' official website
https://synduality-noir.com/
The work key visual looks like this.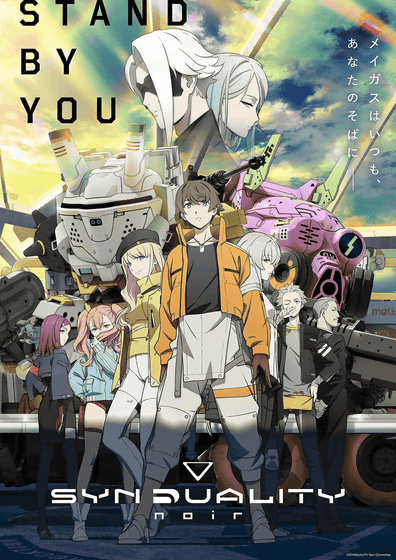 In the first PV, the opening theme 'RAYTRACER' by STEREO DIVE FOUNDATION has also been lifted.


Animation 'SYNDUALITY' book PV - YouTube
©SYNDUALITY Noir Committee
Prior to this anime broadcast, it has been decided to hold a premier screening event where the main story can be seen as early as two months. The venue will be Shinjuku Piccadilly, where Aoi Koga (playing Noir), Takeo Otsuka (playing Kanata), Yoshimi Inagaki (playing Ellie), and Nagisa Aoyama (playing Ciel) will be on stage. Tickets are 2,000 yen including tax and include benefits for visitors. Until 23:59 on Monday, April 24, 2023, pre-request lottery is being accepted.
https://l-tike.com/synduality-noir/
In addition, the official title of the game has been decided as '
SYNDUALITY Echo of Ada
'. Each title is named after the main character, Magus, who is the key to the story.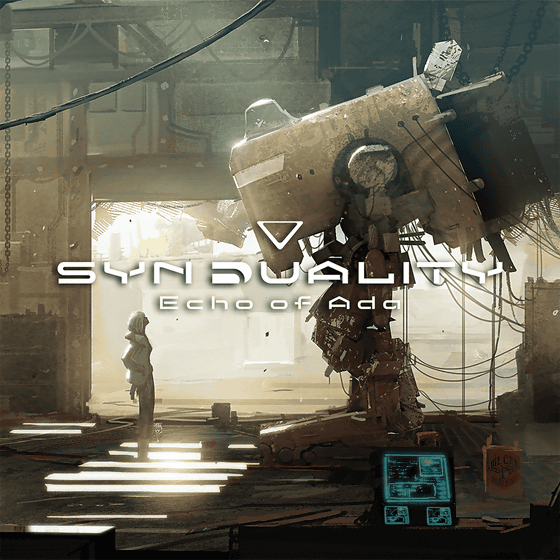 ©MAGUS ©BANDAI NAMCO Entertainment Inc.

In addition, the development of a side story that draws content that is not told in the main story has also been announced. Monthly Comic Alive has decided to serialize a comic version of ' SYNDUALITY ELLIE ' with Ellie as the main character. The novel version of 'SYNDUALITY ELLIE' will be released from MF Bunko J.

Monthly Hobby Japan has decided to serialize Gaiden novel ' SYNDUALITY Kaleido (provisional) ' spelled with photo stories.

In addition, hobby development has been decided one after another.

SYNDUALITY | Bandai Hobby Site

https://bandai-hobby.net/site/synduality/
At the Bandai Namco booth at AnimeJapan 2023, there is a life-size Noir statue.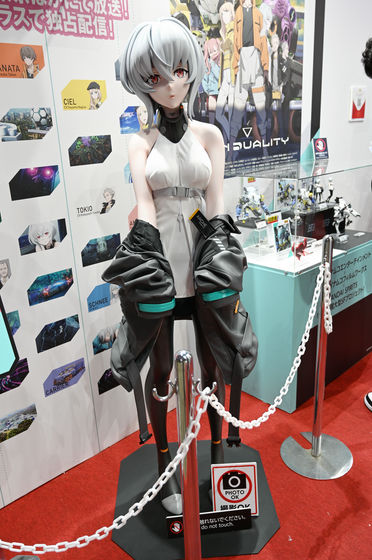 Noir wakes up from a long sleep and has lost his past memories. What will happen to those memories in the future?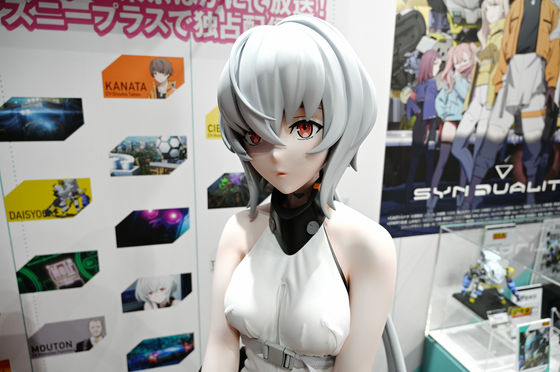 At the 'SYNDUALITY latest information release stage' held at AnimeJapan 2023, Aoi Koga (voice of Noir), Takeo Otsuka (voice of Kanata), Yusuke Kobayashi (voice of Tokio), and Yoshimi Inagaki (voice of Ellie) took the stage. The latest information on large-scale projects with many mysterious parts and talks about each character were held.

From the left, Mr. Inagaki, Mr. Koga, Mr. Otsuka, and Mr. Kobayashi.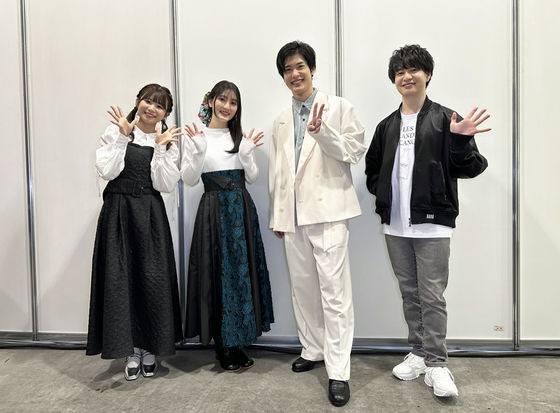 Koga will appear with Nagisa Aoyama, who plays the role of Ciel, and M.A.O, who will play the role of Schnee, in the project's anime information release special program distributed in September 2022. It seems that dubbing had started at that time, but even if I asked the staff, they could not reveal the details, and I revealed that I was appearing on the program with a mystery.

'SYNDUALITY' Animation information ban special number - YouTube


All of 'SYNDUALITY' began in AD 2099, when the disaster 'Tears of the New Moon' rained down, including harmful 'bruscists' to mankind. Due to this disaster, mankind lost 92% of the population, abandoned the surface and decided to create an underground nation 'Amasia'.

Mankind eventually developed the human dual-thinking AI-equipped humanoid 'Magus'. However, in AD2222, the glorious Amasia collapsed overnight due to an unknown accident. The stage of the game 'SYNDUALITY Echo of Ada' is the story around the collapse of Amasia.

AD2242, a young drifter apprentice, Kanata, who collects energy materials such as 'AO crystals' that can only be obtained on dangerous ground, finds Magus Noir sleeping in the ruins of the museum. . The story of the anime 'SYNDUALITY Noir' begins here.

Otsuka describes the main character, Kanata, as 'a bright, straightforward and energetic young man with a boy's heart.' For Tokio, he is like a younger brother, and Mr. Kobayashi, who plays Tokio, talked about its charm, saying, ``There is a core in his weakness, and it makes me feel that he will do something.''

What Kanata found is Noir played by Mr. Koga. There are many mysteries, and he is a key character in the work, but Mr. Koga doesn't know about the future yet.

Mr. Inagaki, who plays Ellie, described Kanata as ``Ellie likes Kanata, but he doesn't notice it and is insensitive.'' He confesses that he likes Ellie the most. Mr. Koga also said that a child with a standing position like Ellie would want to cheer for him, so he enthusiastically said, ``You've been watching (Kanata) for a long time, so do your best!

It should be noted that Mouton is popular among women, and Mr. Koga was enthusiastic here, saying, 'It's a suit, a suit!'

Closing messages from the speakers are as follows.

Mr. Inagaki:
I hope you have learned about 'SYNDUALITY' today. Summer starts. It's a very interesting work, so please take a look. And if you can't wait, please join the advance screening. Thank you for your time today.

Mr. Kobayashi:
I hope you were able to see the flashiness of the action and the high quality in the PV. Among them, what I would like to recommend is an aggressive approach to life that finally rises from the underground city to the surface and tries to live together. Every character is so wild. The conversation drama that the characters weave is really comfortable. While enjoying those aspects, the world of 'SYNDUALITY' will continue to get more and more exciting with Gaiden novels, comic adaptations, and games, so I hope you can enjoy it without leaving anything behind and have fun together. Please continue to support us.

Mr. Otsuka:
There's a lot of information out there, and some people may not be able to catch up on their understanding, but there's still time until July, so it's fine if you keep track of the information until then. is. It's a really interesting work, and it's a very hot work filled with various 'habits'. I hope you will look forward to the broadcast. Please continue to support 'SYNDUALITY'.

Mr. Koga:
I gave you an overview of the work in a lot of haste, but I think it was a very easy-to-understand and tightly packed stage. As everyone has said, the encounters between people and the growth that comes from those encounters are depicted in great detail. The story also has moments where you think, 'Is this what's going to happen here?' I would be happy if you could play the game and enjoy 'SYNDUALITY' from both sides. Thank you very much today. We are waiting for you at the advance screening. Let's meet again.

The anime 'SYNDUALITY Noir' will start broadcasting on TV Tokyo, BS Nippon Television and others from July 2023. The game ``SYNDUALITY Echo of Ada'' will be released on PlayStation 5 and others, and title registration has started on Game Hub from March 27, 2023.

The state of this stage is delivered on YouTube and you can see the archive.

TV animation 'SYNDUALITY' latest information ban stage - YouTube